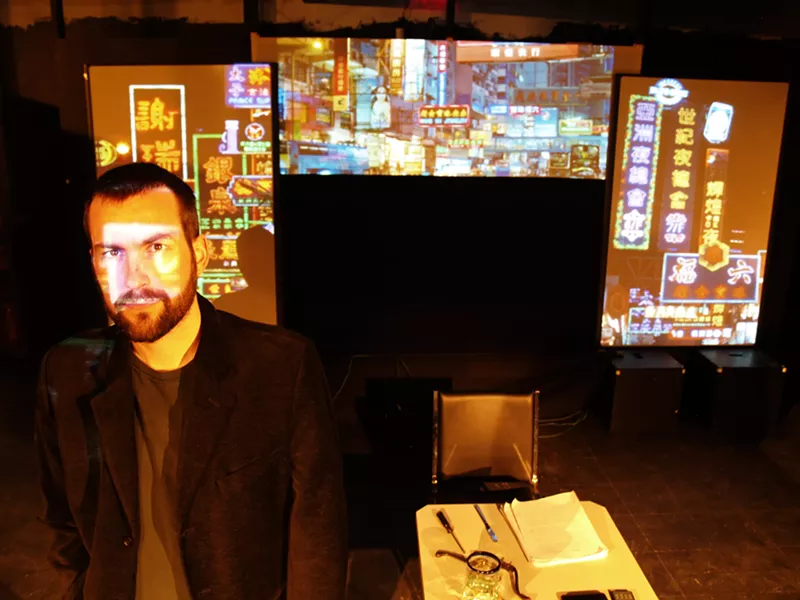 iPhones. iPads. Everyone's got 'em. Well, almost everyone (admittedly, iDon't have one, but I think people like me are few and far between). And if you're not in with the Apple crowd, you're at least hooked up with something smart—a Blackberry, Android or anything else that keeps you connected. But a new play put on by Shakespeare by the Sea, The Agony and Ecstasy of Steve Jobs, may add a little weight to that pocket-sized I-can-do-everything device that you love so much. While director Elizabeth Murphy guarantees you'll still love your iPhone at the end of it, the 90-minute one-man show starring Jesse MacLean will certainly make you consider where that shiny gadget came from.
"It would probably do us a little bit of moral good to actually pause and consider where these machines are coming from and who's making them," says MacLean. Written by Mike Daisey, the play both celebrates technology, while also exploring the working conditions of factory labourers in China. It tells of a man's travels to southern China, a huge hub for the manufacturing of electronics, paying particular attention to the Foxconn plant where many Apple products are made.
Daisey released the script in February, royalty free, to any company who wished to produce it. But about a month later, controversy erupted when This American Life retracted their radio-adapted production of the monologue, on the grounds that, well, it wasn't actually true.
Daisey had fabricated some aspects of the play, even after selling it off as non-fiction. And while MacLean and Murphy did question whether or not to continue with the scheduled performance when the news hit, they thought the message was worth it.
"I think we felt the central message of the play was relevant, whether or not it was all actually, totally 100 per cent factual. You know, if you look upon it as a documentary, then maybe there's something wrong with it. But as a play… we felt the message was still strong and still valid," says Murphy.
The play will run from April 17-22 at 8pm in Park Place Theatre at Point Pleasant Park. Admission is by donation—a recommended $15—which will go towards Shakespeare by the Sea's summer season.
And hey, when you check it out, just make sure you turn off your phone, OK?