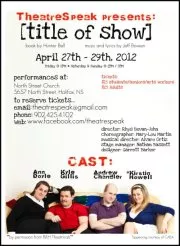 Music makes me happy and happy, bubbly, harmony-filled music makes me really happy. I'm pleased to report that I left the North Street Church last night feeling—-yes—-very happy.
The occasion was [title of show], put on by a new theatre company called TheatreSpeak who's mandate is to produce musical theatre with local artists.
[title of show] only requires four chairs, a keyboard, clever choreography and lighting and oodles of chemistry to make it sing, making it an affordable option for a start-up company.
The storyline may seem a simple as the set—-two young New Yorkers struggle to write a show about two young New Yorkers struggling to write a show—-but the convenience of the plot and the self-awareness of the characters makes it appealingly funny. And while the obscure theatre references wear a little thin, perusing the glossary at the back of the program helps.
Andrew Chandler, Ann Doyle, Kyle Gillis and Kristin Howell provide a beautiful blend of voices and a nice friction of characters.
This show has very short run, so here's hoping to a remount in the future.
Where: North Street Church, 5657 North Street
When: Through April 29, 8 p.m. and Through April 29, 2 p.m.
Phone: 220-3932 or theatrespeak@gmail.com
Price: $15/$25