NXNE is now officially over and I feel like a giant skin bag of garbage. Writing will be minimal. Happy vibes will be a-plenty. Wonderful times were had.
On Saturday afternoon I went to see former Haligonians (and former neighbours) The Danger Bees play in a bordello, apparently: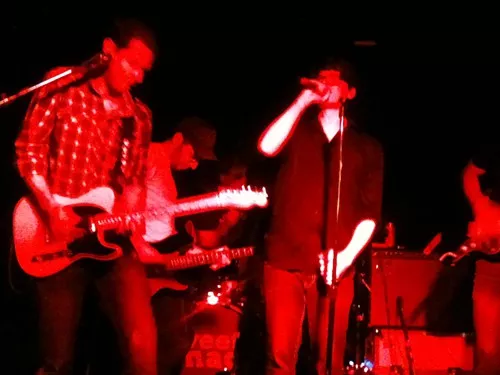 However the band's high-energy set cut through the vulpine atmosphere and had our heads bobbing. Their brand of crackly indie-pop is grungier than I expected and pretty irresistible. Also - and this is another weird embarrassing Toronto thing - the keyboard player from Moist walked in and I pretty much had a heart attack. He was my favorite Moist member, many moons ago. I kept looking at him (he was digging the band) and texting my friend about it and then I realized I was completely regressing and talking about Moist, and I had to leave. Immediately.
Rode to an ace barbecue, prepared by my lovely pal Lisa:
Then we found out the news that the Radiohead stage collapsed. With the potential influx of 40,000 pissy people headed to Yonge/Dundas square for the Flaming Lips show, we decided to re-route ourselves (I have issues with crowds after a simultaneous pickpocketing/bum-squeezing incident in West Africa a few years ago.) More CanCon. Limblifter reunion! First though, we had to sit through one of the worst bands I've ever seen. I will not mention their name, but their arrhythmic baby-music-filtered-through-unpracticed-Animal Collective-spasticity-vibe forced us outside, where we watched an old drunken man stop, listen to the band for a minute, and throw his head back in unrestrained and cruelly mocking laughter. "I am missing Bloodhouse and the Flaming Lips coming out of a giant vagina right now," we muttered.
Then there was a cute duo called Shellshag. They looked like faintly crunchy, possibly vegan punks, and played simple, sweet little songs about love and magnets. Although the female drummer kept losing the beat on her stripped-down kit, I found her cymbal substitutes - a chain of bells wrapped around her legs and ankles that clanged when she jumped - pretty endearing. They were also from Brooklyn. "I wonder what kind of life these guys lead in Brooklyn," my friend mused.
I had to pee so fucking badly through Limblifter's set that to be honest I can't really attest to how they were. They sounded decent, considering that only one original member - Ryan Dahle - was representing. Sloan's keyboard player, who was assuming guitar duties, wore a Sappy hat. I really tried to stay up front for "Tinfoil" but the pee issue was too much and I ended up hearing it from the back of the bar with two sad friends who had traveled from Montreal for Radiohead and were, in their words, "drinking haterade."
Then the Breastfeeders came on! I have missed this band about 800 times so we were happy to see them. And yep they're pretty much the best. Best outfits, best vibe, best dancing. Whiskey.
Let's fast-forward through most of Sunday, where I endured horrible abuse and suplexes from my seven-year-old nephew, who has bestowed me with the flattering nickname "Uncle Female", and go straight to Sneaky Dee's, where I sweated profusely (pattern!) and watched the last band of the festival for me, a Halifax band, CROSSS. They were looking pretty fresh considering they were on the end of a tour or two. Rhythm mates Ryan Allen and Nathan Doucet were quite excellent, and Andy March's vox spooked and calmed. What a great way to close off this crazy week/weekend.
I have to get back to work, and the crazy guy across the street is playing "When the Saints Come Marching In" on his flute across the street, the way he does when it threatens to rain. All is right in the world.