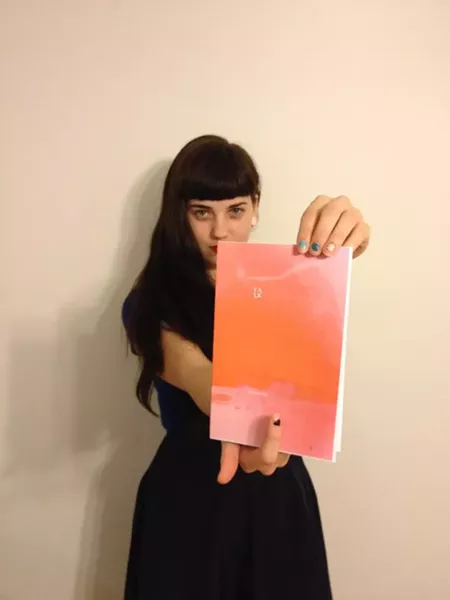 Richards and her new collection
Last spring, a study published in the Quarterly Journal of Experimental Psychology showed that people who talk to themselves while looking for familiar objects have an easier time of it. I'm going to make a scientific leap of faith and say if you mutter away while doing most tasks it's just going to be generally more entertaining. If not for you, then certainly for others.
Melissa Richards tends to agree. "I talk to myself inside my head a lot, asking a lot of questions, convincing myself of something. It helps when I'm feeling awkward or if I'm worrying about something," she says. "I think people should ask themselves more questions, rather than reacting based on their initial feelings or doing what's easiest. It's mostly just logic but you'd be surprised by the amount of people who never talk to themselves." Richards curated TALK [to yourself], her second writers' compilation book, on this very theme. The book features work from local writers Mitchell Wiebe, Katie Hernandez, Geordie Miller, Michael Lindsay and more. "The themes of the book usually come from something that I'll currently be thinking and writing about," says Richards. "It has to be something that everyone can relate to and derive meaning from. I really only have the inspiration to put the books out when I find the perfect themes."
Richards was initially drawn to the production end of publishing world, leading to her first publication. "Since I started studying graphic design I've been really interested in the printing process, from the design to printing, cutting and binding," she says. "The compilation project started with simply asking a few of my close friends (who just happened to be amazing writers) to write under one theme." Titled SKIN, the first book featured work from Andrew Patterson, Ben Stephenson, Cassie Guinan, Hannah Guinan and Yeha Ahn.
"The local literary world fascinates me and I'm really excited about everyone who has contributed. I get excited to read Katie Hernandez' quirky but lovely poems, to brag about Ben Stephenson's novel A Matter Of Life And Death Or Something and see Geordie Miller's live readings," says Richards. "But I'm most excited to see the writing from people who maybe are not involved in the local literary world like Michael Lindsay, Jana Mason and Brad Loughead." The book launch takes place Thursday, December 20 at 8:30pm at the Khyber (1588 Barrington) and bridges the gap between the music and literary scenes by featuring bands and DJs in addition to readings. Stick around for some music featuring Sackville, NB's Kappa-Chow "and local dreamy band Nap Eyes featuring Brad Loughead," says Richards. "After the bands there will be a BAD GIRLS dance party to end the night—Megg Cooper and myself will be playing dance hits from the '90s and early 2000s." Go and talk to someone, or even just yourself.