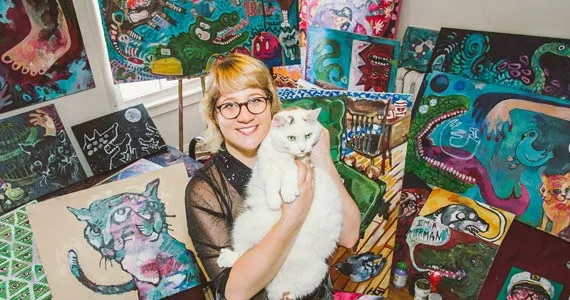 Scott Blackburn
Halloway Jones and pal
It's going to be a sad day at the Bus Stop Theatre (2203 Gottingen Street), come April 20 when Halifax artists and art enthusiasts must bid their beloved Pigeon Gallery adieu (Saturday, April 20, 6-11pm, $5).
Since October 2012 The Pigeon Galley has been bringing together members of the Halifax arts community through entertaining evenings featuring unique art displays, bands from all genres of music and a little comedy thrown in there too.
The idea for The Pigeon Gallery was conjured up by its creator and director, Halloway Jones. As someone who went to NSCAD, has been in multiple bands over the years and has even done a bit of comedy, Jones has connections in a variety of art and entertainment circles.
"I just wished there was more fluidity between the people that make art and the people that make music and the people that make comedy. You know, we're all the same, we all have the same general ethos of creativity and a little subversiveness and I was like, I'm sure we'd all get along great if we just were all in the same room for a little bit longer," she says.
And thus the idea for The Pigeon Gallery was born. "I think I just wanted to make a big happy arts community—somewhere where people could go no matter what they were interested in," Jones says. And that's exactly what The Pigeon Gallery provided—a unique experience where people could step out of their comfort zones and enjoy a wide variety of art in different forms.
Now, it's on to other things for Jones, and so The Pigeon Gallery must come to an end. In order to say a proper farewell, Jones has an evening planned that's sure to send the gallery off with a bang.
The final show, aptly titled Death to the Pigeon Gallery, will take place on Saturday, April 20 at 6pm—according to the event's Facebook page, funeral attire is welcome.
The evening will feature DJ FEEL REAL, performances by Scribbler, Merrick Slip, Adverteyes, Jones' own Baby Cages (also releasing i'm so sorry on cassette that night), as well as 53-minute video art compilation titled Cassettestavision, curated by Brian Shirk featuring artists from Guelph.
And that's not all—Halifax artist Benjamin Woodyard will be showcasing an especially captivating display of ceramic art pieces including decorative molds of his own penis, displayed jokingly as the penises of various celebrities—told you The Pigeon Galley planned to go out with a bang.