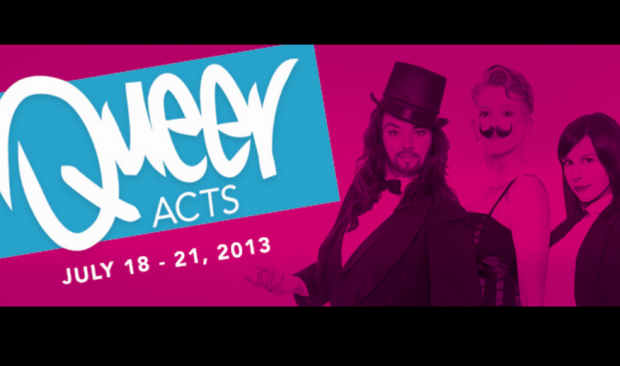 Talk about binging on theatre! Queer Act Festival is offering five shows that will fill your evening from 6:00 to 11:30 all for $35.00. Of course, you could pick and choose, but there is something very satisfying about consuming this as a combo package. So, here's the line-up:
First up is Aisha Sommer Zaman's conversation-sparking Seventeen. This play has its roots in a monologue showcased at DaPoPo's "Acting Out" theatre workshop, but it has been fleshed-out into a short multi-character play with the help of dramaturge Jennifer Overton. The play examines the unrealistic expectations placed on young girls by media and the beauty industry. It features strong performance by a cast of talented young actors, and a particularly chilling end.
Graceful Rebellions intertwines three stories of Afghani women who are at odds with the expectations of their culture. Toronto's Shaista Latiff is a truly engaging performer and the stories themselves are powerful and heart-wrenching.
Evan Brown's Litmus Road is a mind-bending horror story whose premise I won't reveal. (You'll want to be surprised). There are real flashes of brilliance in this play, although it runs too long. The opening scenes between Ashley Marie Pike and Ian Kenny are particularly compelling.
Country music takes centre stage with Lee-Anne Poole's gentle and honest Country Song. Poole had the audience eating from her hands from the first strum of her guitar and held them there with her humour and grace. She tells her story in a simple manner, poking fun at herself along the way.
Last up is the quirky Jet Legs, an off-the wall comedy show starring Krista Davis, Megan McDowell and Margot Durling, plus a different special guest each night. Last night's guest was Bill Wood, who auditioned for the role of pilot on the trio's tinsel-powered aircraft. The show is a nice, light ending to a a full plate of theatre.
Check http://halifaxpride.com/portfolio/queer-acts/ for the complete schedule and prices.