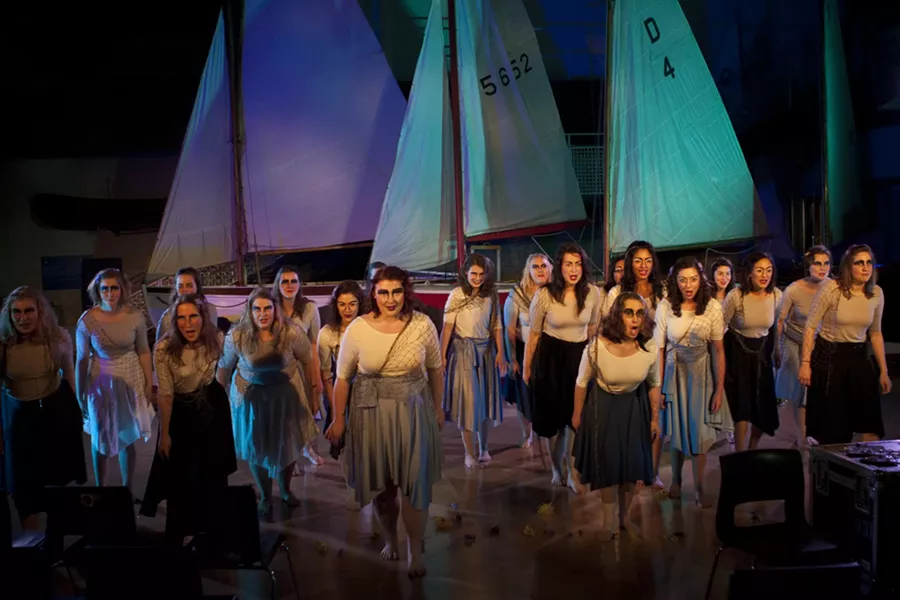 Xara Choral Theatre Ensemble
I didn't think that there would be any way to top last year's rockin' Creative Nova Scotia Awards event, but it happened.
Original Species (Art. Official. Selection), held at the Nova Scotia Museum of Natural History last Friday night, was presented by the Creative Nova Scotia Leadership Council and Arts Nova Scotia with artistic direction from Ann-Marie Kerr and Anthony Black of 2b theatre. It showcased talent in music, dance, visual arts, theatre and film in a delightfully immersive atmosphere.
The museum was transformed into a series of arts spaces. The "globe room" became a choral chamber for the gorgeous sound of Xara Choral Theatre Ensemble and a venue for the dance piece Motion Activated created by Veronique MacKenzie, Susan Tooke and Lukas Pearse. A stairwell resounded with passion and pathos as soprano Janice Jackson previewed a snippet from Simon Docking's opera Escape to Freedom.
Other art exhibits were scattered throughout the museum, including captivating "performance painting" by Bobby Nock, a sensual and sensuous dance piece called Falling Off the Page by Jacinte Armstrong and Susanne Chui, Chambered Nautilus, a gorgeous musical fantastical voyage into the heart of a shell with Ann Denny, Ryan Veltmeyer and John Snow and—my personal favourite—the highly original and deeply moving video projection performance (We) Are Here by Dustin Harvey.
Besides art-viewing, wine-drinking and general merriment, the evening included the presentation of awards to a wide variety of artists, including the $25,000 Lieutenant Governor of Nova Scotia Masterworks Award which went to sculptor Steven Higgins.
A complete list of the evening's winners can be found at http://creative.novascotia.ca/2013-Recipients.