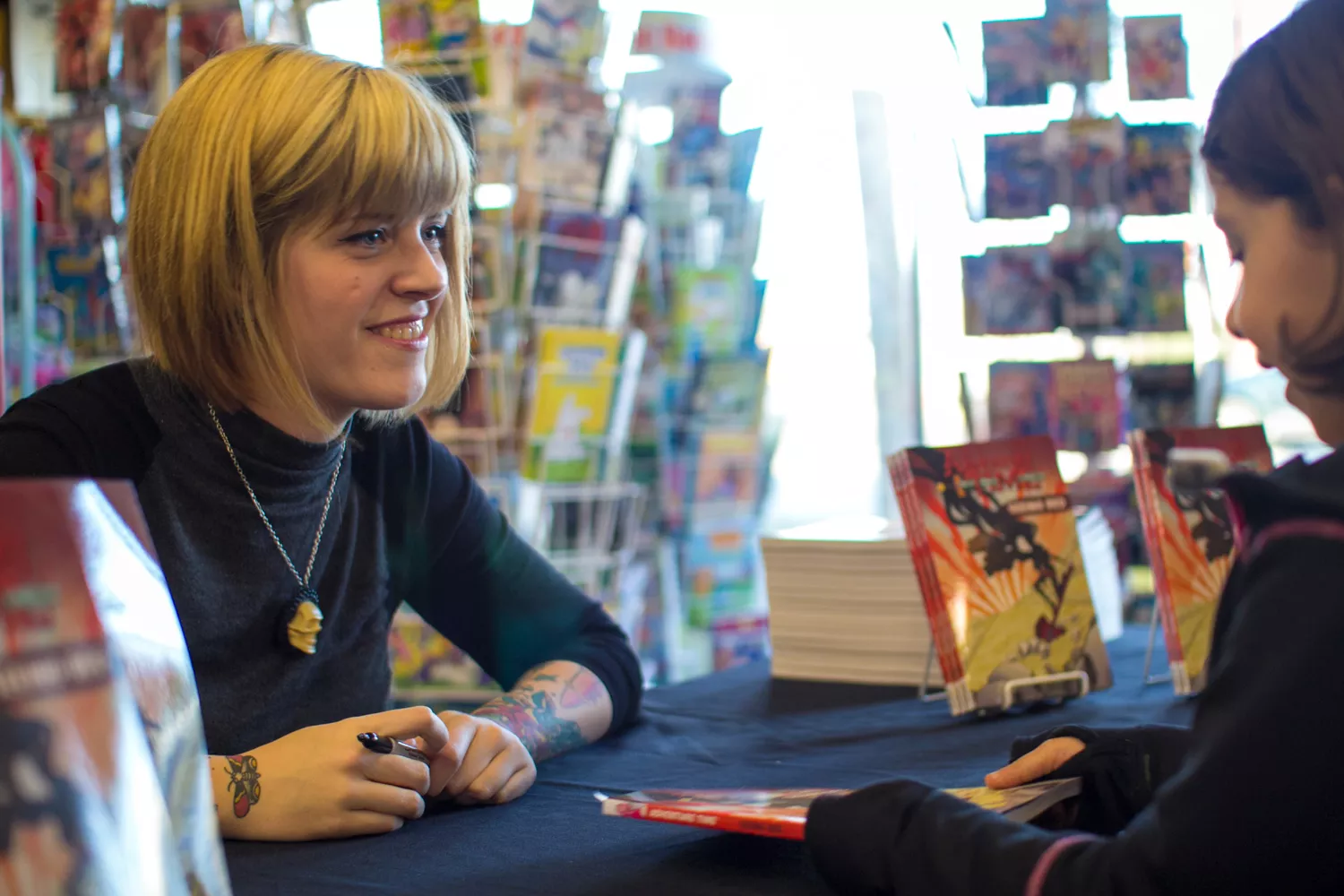 Leth signs a book for a fan in Austin, Texas
Comic artist/author/seller/enthusiast Kate Leth has authored her first Adventure Time novel (with artist Zack Sterling), released today in comic stores worldwide. You may find Leth jetsetting to various comic cons, signing novels, organizing ladies' comic nights or working at Strange Adventures. You can also find her right here, answering all of the pressing questions about the new book, the third in the series based on the Cartoon Network show, Adventure Time: Seeing Red.
Q: Can you tell me a bit about how this collaboration came to be? You've had a history with Adventure Time, right? Why do you like the series?
A: I've been working on little Adventure Time and Bravest Warriors projects over the last year, and it just kind of expanded. I've done some covers for the miniseries, some small backup stories here and there, but this is the first major project. I really love the cartoon and watch it all the time, so it's great to work on. I have so much fun with the characters. There are no limitations to what you can invent, really, which is great.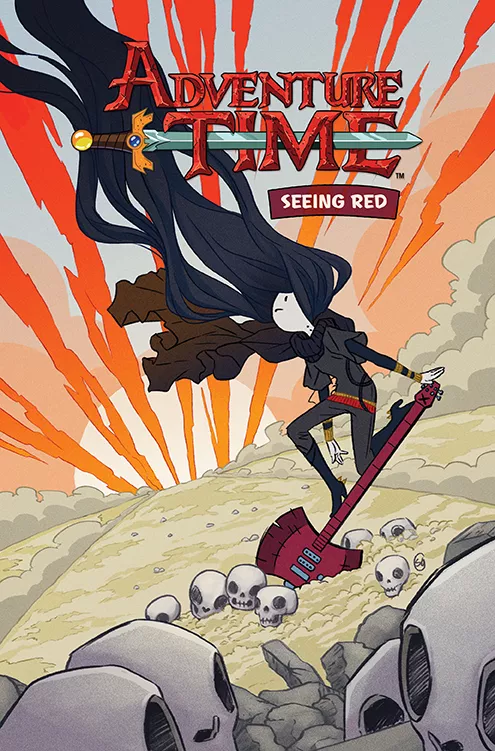 Q: What's the story about? What is it like writing for a series you were such a devoted fan of beforehand?
A: The story is about the complicated relationships that families can have. It's also about vampire rock stars! The show can be so deep sometimes, touching on a lot of feelings people don't often talk about, and I love that. There's a surprising amount of subtlety. Yes, there are crazy fight scenes and wacky demons, but there are some very small moments, some quiet things.
Working on the property itself was kind of intimidating, because I care about it so much and wanted to do it right. In the same way, I do know my way around the characters and their relationships. It wasn't hard to think in character or imagine how someone would react to an event. It helps to be a huge dork about what you're writing.
Q: You wrote a song or two for this novel, can you tell me about that process? Do you write music as well as comics?
A: There are a few songs in the book, just little things. I wrote them mostly as poems, with a tune in my head, but intentionally left that out. I love fan culture, love when people take songs from books and interpret them. The dream is to see someone turn those words into a song which sounds entirely different from what I hear in my head. I'm not really a songwriter, but only because I have no musical talent. I write poems, here and there. This was a good fit.
Q: A lot of your personal webcomic material seems to be autobiographical in nature, was it hard stepping out of that framework?
A: Most of it is autobiographical, yeah. I think, starting in comics, I had a lot to say. I also wasn't sure of my ability to invent characters and worlds. I feel much better about it now. This book was a huge challenge for me in that regard, but it also gave me a ton of confidence. I'm looking forward to working on more original stories, even if they're with existing characters.
kateordiecomics.com
Kate Leth: Not boring
Q: Have you gotten any early feedback on the novel?
A: Just a bit! It's all positive so far. The most important thing to me is that kids like it. I did a signing in Texas over the weekend and a woman bought it for her son—I saw her again the next day, and she told me he'd read it twice. That's all I need to hear!
Q: I'd also like to hear about your female comic shop employee alliance, that sounds really cool and inspiring. Why do you think that's an important organization?
A: The Valkyries! Yeah, we're a group of women who work in comic shops all over the world. There are about 180 of us that connect through a private group online. It's really awesome. I started it last year and it's blown up like crazy, which is really neat.
I wanted to create a safe and encouraging space for women in geek culture to talk, but also to discuss the retail side of things. It's much more than that now, but that's how it began. There are so many people telling us all the time that we don't read comics, that we don't love them, and it just isn't true. It's not a boys' club at all anymore, and I think we're proving that in our own little way.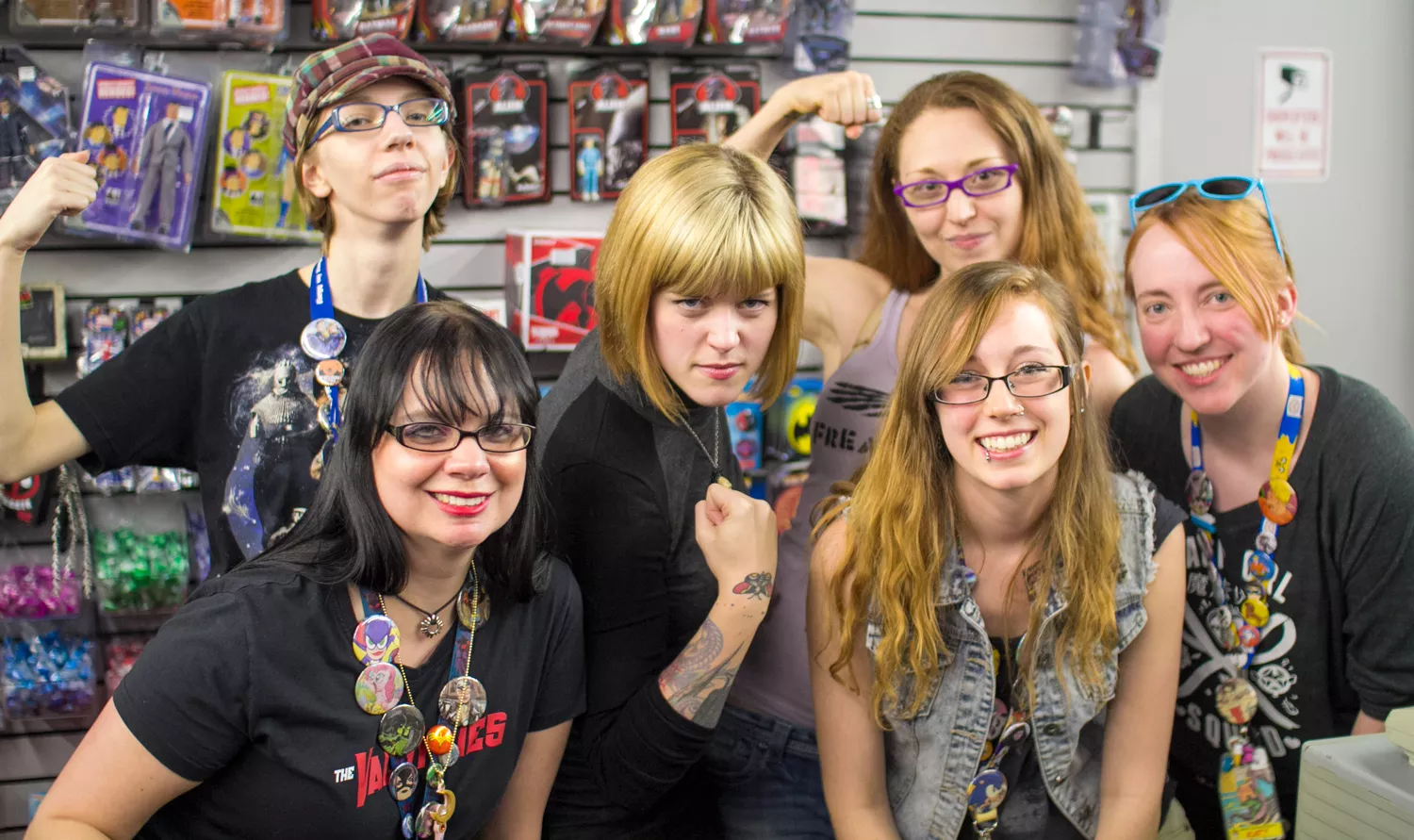 Leth and Valkyries at Austin Books and Comics
Q: What's coming up next for you?
A: Well, I'm just working on my second original graphic novel for Adventure Time, which will come out in the fall. I've also written a one-shot based on The Grim Adventures of Billy and Mandy, which will come out this summer as part of a big IDW crossover. Between now and then I'm going to a bunch of conventions, hosting two Ladies' Nights at both Strange Adventures locations, and writing all the stuff I can't talk about yet. It's a crazy year!