Has this really only been going on for four days? Unfortunately the answer is yes, and instead of thinking about what else you could be doing with your time, let's take a portion of Friday to judge the media (for once, am I right?). March Madness rolls on with another sizzling match up, and this one may even be just N S enough F W. Click here for our introductory post and squint at the full bracket below.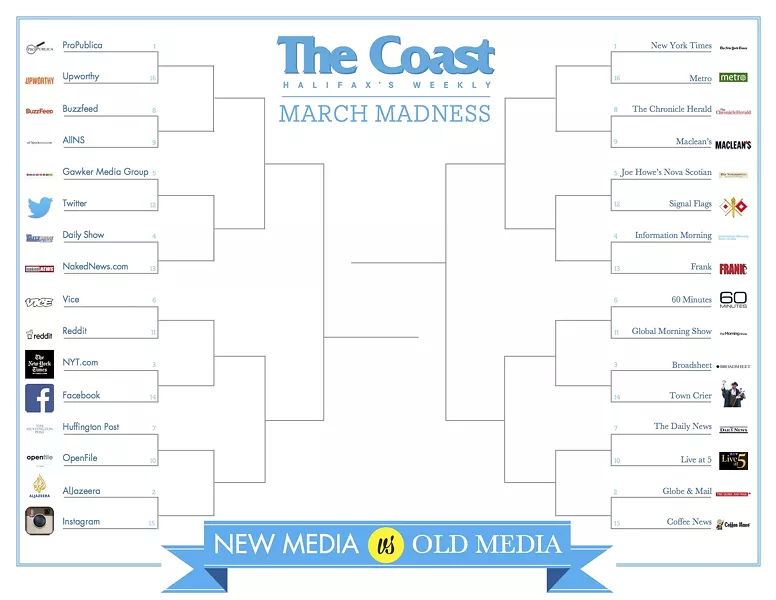 Today's heats in the new media category are The Daily Show versus NakedNews.com (because TV is new? Listen, just don't question it too much), and in the old media category, Information Morning versus Frank Magazine (because radio and print is WAY OLD).
Before we get into the mix with those dudes, let's recap yesterday. Talk about a close call! Sweet creepin' Christ, you could barely slip a communion wafer between these results! Joe Howe's Novascotian won out over signal flags 52 to 47. I had a sneaking suspicion that signal flags were going to win this thing because the feeling of going "haha signal flags" and clicking was just too delicious. I was very nearly right.
Nick Denton's brain lost to everyone else's brain 48 to 51 in the Gawker versus Twitter battle. He has the plant, but we have the powerrrrr.
But yesterday's history, tomorrow's a mystery, today is a gift and that's why we call it the present. In this instance, it's an erotic gag gift at your bachelorette. It's Friday and it's getting hot in here. The Daily Show with Jon Stewart bumps booties with NakedNews.com, and it's anybody's game! Which form of new media is the most arousing to you? Sexy, sexy Jon Stewart, with all his brightly burning rage at the world's injustices? Ooh papi, you can take out your rage at the Republican party on my'ass. Or boobs on the news? They're just hangin' out there, while someone reads the news. DAD JOKE ZONE: They must save a bundle on the wardrobe budget under there! CHILD: Under where? DAD: Nope! They aren't wearing "UNDERWEAR" either! CHILD: Oh, Dad.
The cat's in the cradle and the silver spoon. Vote!
In an equally sexual category is Information Morning versus Frank Magazine. Connolly and Renault's husky radio voices could launch a thousand ships. Be careful out there, drivers, there's a three-person pileup on the highway of my heart! And Frank Magazine... likes to shame porn actors? idk, really. That's not very sexy. I'll admit that one was a stretch. Fun fact: Both of these outlets have featured/continue to feature our own Tara Thorne! That's sexy! Also, there's totally something illicit about flipping through a few pages of Frank in the grocery line. What if someone catches you? You naughty thing.
Vote hard today, as there will be no weekend voting.