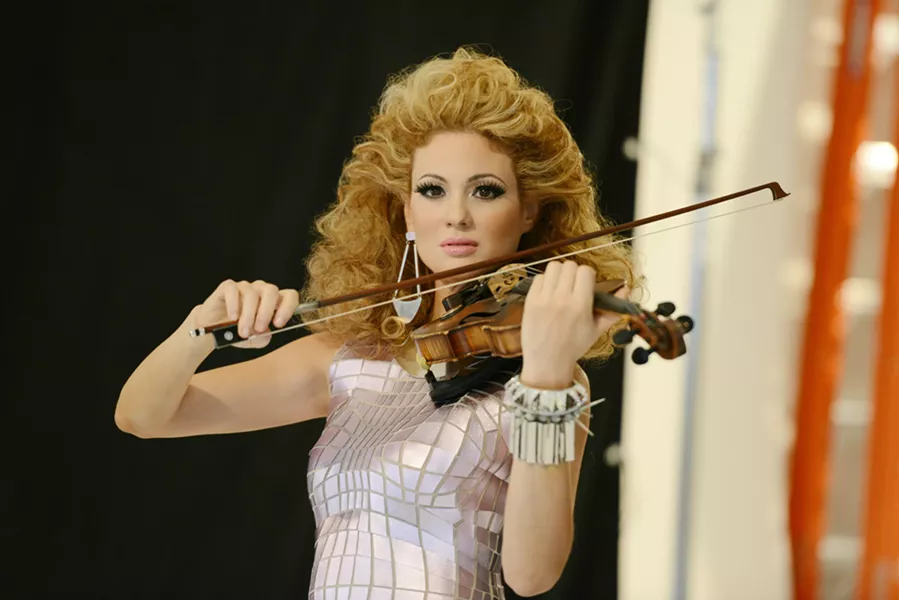 photo via miribenari.com
Girl, your dress game is on point.
Halifax has decided to bring Miri Ben-Ari to town for the Grand Parade NYE celebration. Keep in mind, this celebration will not be televised or streamed because it's almost 2015 and soon we will all be taking CultureTabs™ (BACK OFF IT'S MY INVENTION) anyway so who needs TV.
But who is Miri Ben-Ari, and why will she soon find herself playing intense and dramatic violin outside of our city hall? Does she know Jay Z andElmo? All this and more answered!
Miri Ben-Ari is am Israeli-born American violinist, known for her collaborations with Jay Z and Kanye West, including a Grammy-winning songwriting credit for "Jesus Walks" (dun—dunDUNdun, dunDUNdun, you know). She's also the UN "Goodwill Ambassador of Music" and while I don't imagine it's really a hard sell getting people to like music, that's still a pretty cool thing to put on the ol' resume.
The Halifax civic event page for the New Year's event describes Ben-Ari as "an internationally acclaimed contemporary violinist. In addition to playing at the White House for the President and Michelle Obama, this incredibly talented musician has worked with some of the biggest stars in music; Jay-Z, Kanye, Wyclef, Armin Van Buuren, Alicia Keys!!"
Two exclamation points!
TWO!!
And they're both warranted, truly. Behold, Ben-Ari's amazing clip reel of accomplishments. Then get jealous that Cyndi Lauper will never say your name in a cute way via FaceTime in her hotel room.
Exactly why Ben-Ari is coming to this far flung destination isn't clear (Halifax Civic Events is on vacation until the end of time—AKA January 2015) so we will just have to marvel at this beautiful violin playing dynamo in wonder.
Wednesday, December 31, 10:30pm to 12am
Grand Parade, outside Halifax City Hall, 1841 Argyle Street, Halifax
With Neon Dreams, Party Boots, Carson Downey and Atlantic Cirque
Hosted by Mayor Mike Savage, co-hosted by many many fireworks
There's also a public shaming New Year's Resolutions component? Email NYE@halifax.ca with your name and resolution and it has a chance to be splashed on a big screen in the square. Fun?