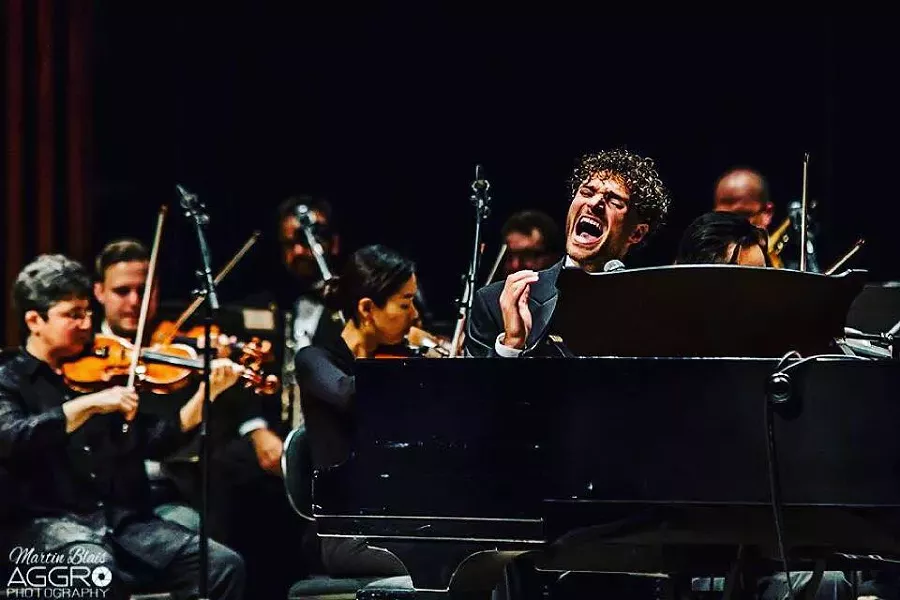 Martin Blais
Rich Aucoin with Symphony Nova Scotia
Saturday night was a bittersweet affair. While it is always sad to say goodbye to HPX, the Pop lifestyle is not a sustainable one. You can only crawl home at 3am just to wake up mere hours later so many consecutive times before it begins to take its toll on your sanity (and liver). That being said, as sad as I was to see it go, Pop was going to go out with a bang (GET IT?!?!) because Saturday night's line-up was straight fire, yo.
To begin the evening I had the absolute pleasure and privilege of seeing
Rich Aucoin
with
Symphony Nova Scotia
at the
Rebecca Cohn
. I know for certain that if you have lived in Halifax for any amount of time, you have heard of Rich. His live shows are the stuff of legend, incorporating audience karaoke, kindergarten parachute parties and dancing until you can't dance no mo'. Aucoin is certainly one of the best entertainers in Halifax, approaching his live shows with childlike abandon paired with precise rhythmic calculation that can only come from years of experience. You can't help but leave with a big, dumb smile on your face.
While his normal (if you could ever get away with calling it that) live show demonstrates his skill and creativity as an entertainer in exciting visual ways, Rich's performance with the Symphony that night showcased how truly gifted and thoughtful he is as a musician. With the help of the orchestra, conductor
Martin MacDonald
,
David Christensen
(who advised Aucoin while scoring the set), and a massive grand piano (some
Jerry Lee Lewis
-style bench kicks were had, true old school rock n' roll), crowd favourites such as "Four More Years," "City I Love," "
Want to Believe
" and "All You Cannot Live Without" came to life with renewed beauty. The anthemic group sing along choruses were rounded out perfectly by a choir comprised of Aucoin's friends, and a host of extra players added depth and dynamics to selected pieces with percussion, stand-up bass, and acoustic guitar. The classic
Grinch Who Stole Christmas
act was even brought out, which delighted the old-school fans.
It wouldn't have been a real Rich show if there was no audience inclusion somewhere in the run of the night. Closing the night out with back-to-back songs "Living to Die/Dying to Live" with microphone outstretched over the crowd, Aucoin invoked the audience to sing along in chorus. It made a beautiful night even more beautiful by bringing the type of unity to strangers that can only come from singing songs about hope and life. It was truly uplifting, enough to bring tears to your eyes and, without exaggeration, it was a performance I will never forget.
Lenny Mullins
Purity Ring at The Forum MPC
After pulling myself together I quickly drove home so I could make the jog over to
The Forum Multipurpose Centre
for
Purity Ring
. I thought it a certain impossibility that I could be more blown away than I just was at The Cohn. While Rich astounded me sonically, Purity Ring amazed me visually. Let me tell you b'ys, this shit was ~*tRiLL*~ enough to get you high by sight alone.
Vocalist
Megan James
' ethereal voice is just as beautiful live as recorded, and her presence on stage is equally as commanding and strong. Making use of the entire stage, James engaged every person in the room while showcasing her natural talent on songs from both their first album,
Shrines
, and March's release,
Another Eternity
. Instrumentalist
Corin Roddick
, the other half of the Ring, had his workstation staged behind what I could only describe as a cage of massive cotton swabs from the future. In the escalation of cool shit that kept happening, Roddick revealed that these giant Q-Tips were infact preprogrammed synthesizer pads that, when struck, LIT UP. REAL COOL. (you can check out what I'm talking about in
photos from the night found here
).
The Ring didn't pull out all the guns all at once though. Many strands of cascading bulbs hung on either side of the stage. What I originally thought were stagnant set pieces (to take away from the fact that only two people were on this massive stage) began to light up later in the performance. Like Christmas lights on acid, they were perfectly synched to the music. Sonically the show was equally as impressive, with James' voice clearly cutting through Roddick's massive bass drops. The tech behind the sound booth on this deserved a cold one.
Speaking of cold ones, this was also the show that taught me Miller Lite is complete garrrrrrrrrbage to drink. I just wanted a switch up from MGD for a second but it was totally not worth it. It's going to be a long ass while before "it's Miller time" again for this dude.
Anyway, suddenly it's 1 am and I'm at Johnny K's with Greg and Taylor shoving a donair down my throat with every intention of heading to Reflections to catch the last minute Skratch Bastid show. Now friends, there are some pillars of time in your life, those moments that you always come back to because they are so defining and teach you profound truths about who you are as a person. This exact moment in question was the moment when all of the nights of 3 hours of sleep, garbage fast food and, most likely, pretty bad dehydration caught up with me and, like a homesick kid at summer camp, all I wanted was my own bed. I knew it was time to be a big ol' baby and call it the end of HPX for me.
But it was a wild blast of a ride and I know I'm not the only one who feels that way. Got a cool Pop Explosion story, favourite act, or dumb thing you did? Comment section is below and I can't wait to hear 'em.
Till next year, folks.