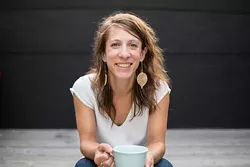 Lindsay Duncan
Gabrielle Papillon swaps her songs on Thursday night (see number 7).
10. 2016 Starfish Student Art Awards. Thursday, April 21, 7-9pm.
The Starfish Student Art Awards celebrate the excellence of NSCAD's best and brightest, incorporating an art exhibition, glitzy gala and art sale of student works. Of the 10 student finalists, only one will emerge the Starfish grand prize winner.
9. Smartphone Film Festival. Friday, April 22, 7pm.
The Coast and Eastlink present the second annual Smartphone Film Festival with a screening of short films made in the palms of Haligonian hands.
8. The Drowning Girls. Friday, April 22, 7:30pm.
Based on the real-life crimes of English serial killer George Joseph Smith, Neptune Theatre's new play The Drowning Girls is a haunting tale of three murders told by the victims from the bathtubs they were drowned in.
7. The Song Swap. Thursday, April 21, 8pm.
The Song Swap sees seven local acts cover each other's material. Gabrielle Papillon, Leanne Hoffman, Hello Delaware, Owen Meany's Batting Stance, Floodland, Willie Stratton and Carmel Mikol give fresh new takes on each other's catalogues.
6. Spring Geequinox. Saturday, April 23, 11am-7pm.
Spring Geequinox brings together geeks of all stripes, presenting the best in video games, board games, cosplay, comics and art.
5. Joe Murphy & The Water Street Blues Band CD Release. Saturday, April 23, 4-8pm.
Joe Murphy & The Water Street Blues Band have been singing the blues since before millennials were even a thing. Join the group at their album release and celebration of 25 years of Saturday afternoon jams.
4. Earth Day Party. Friday, April 22, 6pm.
Spring is coming in like a Lion & Bright this year and the cafe/wine bar is celebrating with an Earth Day shindig, presented in partnership with the Ecology Action Centre and Big Spruce Brewing.
3. Aftershock: The Halifax Explosion and the Persecution of Pilot Francis Mackey. Sunday, April 24, 2pm.
Author Janet Maybee wants her twice Atlantic Book Award-nominated book Aftershock: The Halifax Explosion and the Persecution of Pilot Francis Mackey, to dispel some of the myths about the Halifax Explosion and explain how those narratives have unfairly portrayed one harbour pilot for nearly a century. Join the author and representatives from HMCS Sackville, Pier 21, Shipfax/Harbour Watcher, Maritime Museum of the Atlantic and the Atlantic Pilotage Authority for a special talk on the myths and truths of the explosion
2. The Invitation. Friday, April 22, 7pm.
In The Invitation, screened by Carbon Arc Cinema, a man returns to his former home for a dinner party and comes to suspect that his ex-wife and her new husband are plotting something sinister for their guests.
1. Adept Tattoos Animal Charity Day. Saturday, April 23, 11am-7pm.
Adept Tattoos loves their furry friends and every year the shop offers a special deal on tattoos with all proceeds benefitting animal charities. This year, 1000 Carrots Rabbit Rescue, Greyhound Pets of Atlantic Canada and Imake a Difference–a rhino conservation society–will benefit from the event. Artists at both Adept locations have put together special animal-themed flash sheets for ink lovers to choose their designs from.