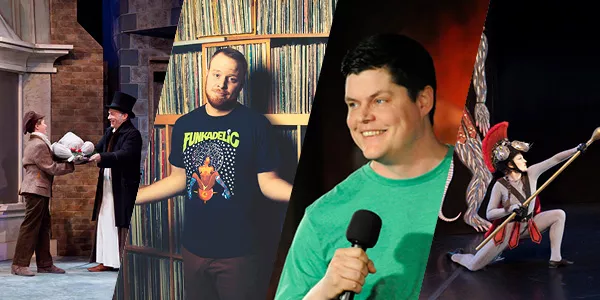 1
Geeks vs Nerds Holiday-Themed Show
GvN's first Christmas show in five seasons is bound to be the best gift you get this holiday season. They'll start off with a few easy two-minute debates---socks vs educational gifts, holiday CC bill vs naughty list and Rudolph vs Frosty---followed by the big guns, Superman vs Santa Claus: who has done more for mankind? and The Flash vs The Doctor: who is best equipped to deliver toys to all the good girls and boys? No holds barred.
Tuesday, Dec 10, 8pm, Hell's Kitchen, 2037 Gottingen Street, $7
2
Crunkmas w/Skratch Bastid
Holiday hangovers aside, this is the perfect chance to shake off your winter doldrums with a dose of heavy dance beats and post-Christmas, pre-New Year's Eve party rockin'.
Friday, Dec 27, 10pm, Marquee Ballroom, 2037 Gottingen Street, $16/$19
3
Handmade Holidays
All season long the crafty elves at the Designer Craftshop have been making homemade easy with weekly workshops on holiday glee like paper wreaths (Dec 6), gingerbread house boxes and snowman bags (Dec 13) and last minute gift wrap (Dec 20). Don't let being all thumbs hold you back.
Fridays, To Dec 20, 6-9pm, Designer Craftshop, 1061 Marginal Rd #140, free
4
A Christmas Carol: The Musical
A show that's as thrilling as it is festive, nog yourself up and head to the theatre for the musical version of Dickens' famous tale of generosity and redemption that features fantastic sets and a Marley's ghost dance number that'll have you shaking in your winter boots.
To Dec 31, Tue-Sat, 7:30pm; Sat-Sun, 2pm, Neptune Theatre, 1593 Argyle Street, $25-$63
5
It's a Wonderful Life
Lions Den Theatre's hit is back---a play based on Frank Capra's classic Oscar-winning holiday film only presented in the style of a 1940's live radio play with live music bound to bubble up some seasonal memories.
Dec 12-15, 8pm; Sat-Sun, 2pm, Dartmouth Players Theatre, 33 Crichton Street, Dartmouth, $11
6
The Nutcracker
It's a classic for a reason---nothing beats the choreographed awe of the two-act ballet featuring Tchaikovsky's equally playful, striking and beautiful score which pits a come-to-life nutcracker against a rat king. Plus, full-powered thigh leaping!
Dec 6, 7, 13, 14, 7:30pm; Dec 7, 8, 14, 2pm; Dec 12, 4pm, Rebecca Cohn Auditorium, 6101 University Avenue, $20/$40
7
Ha!Ha!Ha!idays
There's no reason Santa's belly should be the only one shaking like a bowl full of jelly this season. Get your laughs in with ventriloquist Michael Robinson and comedian Rob Pue as you get your fill of a buffet spread.
Dec 13-14 and Dec 20, 7:30pm, Schooner Showroom, Casino Nova Scotia, 1983 Upper Water Street, $65 (limited tickets available)
8 Tales of a Charlie Brown Christmas
It's a TV special that's near and dear to all our hearts and for the first time ever, you're going to be able to hear the soundtrack performed live by Jerry Granelli (the only surviving member of the Vince Guaraldi Trio, which composed and performed the original score) for JazzEast's 10th annual winter fundraiser---music that producers originally thought would be a little much for a children's show but has proved a movement of pure programming genius. Bring the kiddos for matinee activities and your wallet for a silent auction.
Sunday, Dec 8, 2pm and 8pm, Spatz Theatre, 1855 Trollope Street, $40
9 SantaCon
Dust off your jolly hats and fur trim, it's another year of mass merry making in support of Hope Cottage. Listen though, these Santa's tend to get a little rowdy so leave the kiddies at home and prepare to mount the naughty list with drinks, festive prizes, pics with Santa and a photobooth.
Wednesday, Dec 11, 9pm, Durty Nelly's,
1660 Argyle Street, $5
10
Christkindlmarket
The German Christmas market has everything from traditional carols, free crafts and carousel rides to Nativity Story performances and live music featuring Charlie A'Court, The Scotianaires, a women's barbershop chorus, Lana Grant and a very special performance of Onelight Theatre's upcoming show Tell it on the Mountain.
Friday, Dec 6, 6-9pm; Saturday, Dec 7, 2-9pm;
Sunday, Dec 8, 11am-5pm, Alderney Landing Farmer's Market, 2 Ochterloney Street, free