10. The Uncanny: When Fantasy Is Too Real
Aug 4-7, 8pm, Matinee Aug 7 at 2 pm
Three short plays make one full evening of adult-only fairytales at The Bus Stop Theatre. In The Marriedest One of All, the evil Queen and Snow White are locked in a competition to see who can procure the most husbands. (Hint: Cohabitating with seven dwarves lends a distinct advantage.) In Asleep at the Wheel, the story of Rumplestiltskin is re-imagined to explore the implicit violence of patriarchy in fairy tales. And lastly, Hansel in Lederhosen is a psychological cat-and-mouse set in an eerie theatre in Halifax. —Kate Watson
9. Documentary Double Bill
Thursday, Aug 4, 6-9pm
This double bill features ! WOMEN ART REVOLUTION, a doc that explores how the women's art community came to blossom through the feminist movement of the '60s and '70s. Second up is She's Beautiful When She's Angry, a film that acts as a visual record of people and happenings during the peak of feminism's second wave. Part of South House's Bechdel Test Film Fest, this screening takes place at the Art Bar, 1873 Granville Street.
8. Summer Rumble
Saturday, Aug 6, 7pm
Head to Bedford Lebrun Arena, 36 Holland Avenue, Halifax for your fill of jaw-dropping, gut-wrenching action with this wrestling show.
7. Bachata Dancing Lessons
Saturday, Aug 6, 11am-2pm
Pier 21 and Indhira Castillo of La Zona Dance Company invite you to lace on your dancing shoes and try Bachata, one of the most accessible forms of Latin dance. Requiring no skills or partners, everyone's welcome to learn some spicy new steps at the museum!
6. du al ism By Doug Belding
Aug 5-18
A series of paintings at the Dart Gallery exploring the fizzling tension between opposites, this collection of 10 pieces tells the story of characters facing an array of challenges. Using vivid aqua against a moody, red and black background, Belding creates one more layer of opposites and makes his images pop.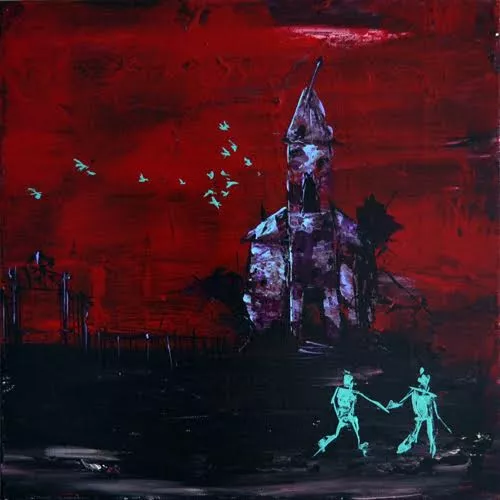 5. Crossing Borders: Realities Blurred
Saturday, Aug 6, 7:30pm
Classically-trained pianist Cheryl Duvall shares the stage at The Music Room with her friend and soprano, Maureen Batt, at this classical-style concert. But don't dismiss this as your typical classical show. The concert, part of a North American series also featuring shows in Toronto and Philadelphia, tackles modern themes like mental health issues, HIV/AIDS, gender identity, body issues and even selfies. As Batt puts it, "each piece represents a reality that is blurred, a line that is crossed, a time that is both past and present."
4. Halifax Seaport Beerfest Aug 5-6 Don't let the tiny steins fool you, this is a marathon not a sprint. Welcome the 10th anniversary of the summer favourite Seaport Beerfest by swigging back craft brews and ciders from over 100 producers, putting down a good base of tasty snacks and enjoying live music and the city's hottest DJs at the Cunard Centre. Need we say more? Didn't think so.
3. Potluck Picnic 2
Thursday, Aug 4, 6-8pm
The second installation of Eyelevel Gallery's picnic series, this event is all about breaking bread and discussing art. Bring your favourite potluck dish to Common Roots Urban Farm and don't forget a donation to Feed NS. Rain date is TBA.
2. Lakefest
Saturday, Aug 6
This all-afternoon outdoor fest on the beaches of a secret lake has us craving a cold drink and the smell of sunscreen. With tickets available at Lost & Found (2383 Agricola Street) for a paltry $10, it's a great chance to discover some local talent.
1. Cat Fest
Saturday Aug 6, 10am-4pm
Celebrate International Cat Day with the Museum of Natural History. Dress up in your feline best and enjoy events, crafts and more. #CatFest16