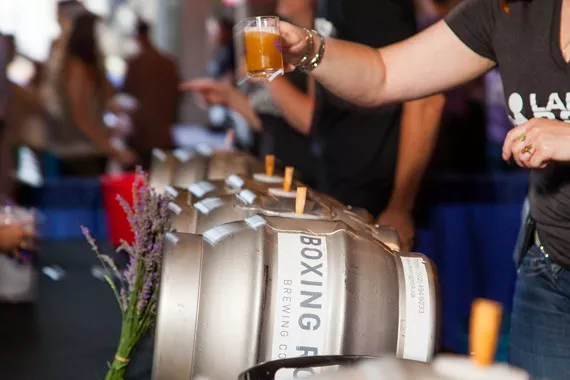 Boxing Rock will provide a few of the 300+ beers on tap this weekend.
When Brian Titus answers the phone, he politely says this might not be the best time to talk. Outside at Pier 23, near the Cunard Centre, he's hard at work ripping open the many flats of beers arriving for the 10th annual Seaport Beerfest. The loud thumps and bangs from this effort reverberate through the call.
"As I'm going through the beer I'm sort of fondling different bottles, thinking, 'Oh I'm going to come back to you,'" the event co-organizer (and half of the duo behind Garrison Brewery) says, laughing.
The Seaport Beerfest is an annual two-day festival that transforms the Cunard Centre and surrounding pier into a craft beer mecca. For $49 (and tax), beer lovers get to sample what Titus estimates to be 326 brews—from hoppy IPAs to rich, layered stouts.
"We started this festival back in '06 because there was no gathering or celebration around beer. The festival didn't start the craft beer revolution, but it certainly helped fan the flames," says Titus.
Because, while the fest is a chance for all suds lovers to sip to their heart's content, for Titus it's also about community. As he explains, small breweries from across the country (and even a few international offerings) congregate at Beerfest to share problems and victories while pouring brews.
"We all share the same kind of issues, right? We all have packaging lines that break down at the worst possible times, and we all have to deal with different regulations with provincial liquor boards," he says. "One has a problem in one area and another has a problem in another area so we can all kinda commiserate."
For festival attendees, it's a chance to meet fellow booze hounds and encounter some new brews you won't find anywhere else: "On the local side, we're at almost 80 different brands of beer," he says, adding that the number of Irish beers at the fest has nearly doubled this year. Some of these Irish options are "only a few months old" and have "never even shipped outside of Ireland."
With palpable excitement, Titus remembers how Beerfest has grown over the past decade. What started as a small event with only a handful of beers became the mammoth swill-a-thon it is today through Titus and his co-founder, Bruce Mansour, adding a handful of new offerings each year. "This year we have 48 brands, two full pallets, of fresh BC craft beer. This now means we got representation from pretty much all across Canada. We're missing Saskatchewan and Alberta, and maybe that's a Year 11 thing we gotta work on," he adds.
Soon, it's time for him to return to the docks, because there's a lot more of those 326 brands to be unpacked.
"We really want to make sure that whoever goes to this knows that they've been to something really unique in Halifax, on the waterfront," says Titus, "that it's not like any other beer festival that they'll be able to go to."
---
Seaport Beerfest
August 5-6
Cunard Centre, 961 Marginal Road
$49
seaportbeerfest.com