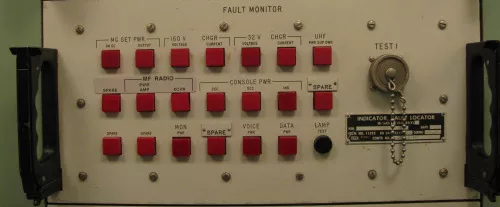 If you like old machinery with big ass buttons and ten ton doors served up with old time politics and technology used for E-ville and not good, boy, do I have the place for you. The Ronald Reagan Minuteman Missile site has been open to the public for less than a year but not so much of it is new, since it was built in the mid 1960s and last refurbished in the late '80s before being closed in 1997.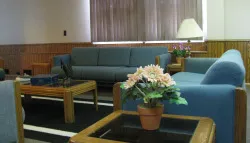 This is Oscar-Zero Missile Alert Facility where shifts of managers, security forces and chefs lived, just waiting for a call from the President saying that the Cold War was heating up and it was time to nuke. Then messages would be authenticated (think of The Hunt For Red October) and boxes unlocked and the big button pushed, launching a solid fuel (huge improvement over the earlier liquid fuel missiles) Minuteman towards the Ruskies.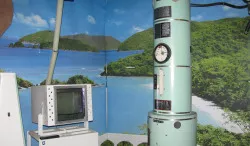 The Cold War cooled and in 1991 the USSR and USA agreed to limit the number of strategic weapons. The 321 Wing at Grand Forks, North Dakota was closed, all missiles were removed and each Launch Facility and Missile Alert Facility was dynamited or filled, except for this one, now a state historic site.
It's in the middle of nowhere of the North Dakota Prairie, a small, unassuming building with butter yellow siding and tiny gophers popping out of burrows on the surrounding grass. Topside is a the support building with quarters for eight people: living room, commercial kitchen, dining room, rec room and dorm rooms, all in last century drab. Plastic flowers.
Sixty feet down, through blast hardened solid earth, after a grinding slow elevator ride, is the much bigger guts of the place, the Launch Control Center and Equipment Building. From the brochure (in the voice of Walter Cronkite): "guests will see first hand the front lines of the Cold War as they step behind the concrete blast door and witness the equipment that could have been used by the missile crews to launch nuclear missiles."

And yup, there are pipes and machines and dials and stations with buttons and bulbs and warnings and alarms and a small bunk bed with an incongruous bright turquoise cover. Plus Lieutenant Uhura red upholstered chairs which slide on rails in front of banks of monitors, toggles and switches.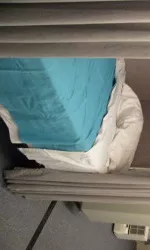 In one corner the wall has a wall paper scene of a tropical beach. Two officers were always on duty, responsible for monitoring, launching and re-targeting ten nuclear missiles and they had supplies to stay long term, even through a nuclear attack.
It's all great geek kitsch and cool, but it's not over yet. Three Minuteman missile fields, each with 150 nuclear missiles, are still operating from Air Force bases in North Dakota, Montana and Wyoming.