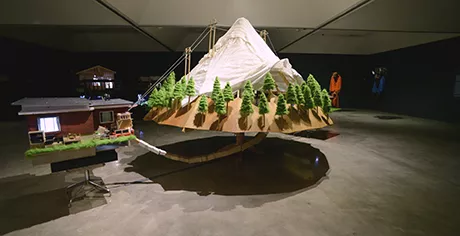 Graeme Patterson
The Mountain (part of Secret Citadel), 2013, mixed media sculpture/video installation, 244 x 304 x 182cm.
Going on vacation is pretty great, guys. But you know what's not so great? Going on vacation and missing the opportunity to post about the Sobey Art Award shortlist as soon as it's announced.
Better late than never! Here's the short list of contemporary artists under age 40 from across Canada who are up for this year's prize—$50,000 and a whole lot of applause. Work by the shortlisted artists will be shown in an exhibition at the Winnipeg Art Gallery opening on November 1, with the winner being announced at a gala event on November 19.
West Coast and the Yukon: Evan Lee
Prairies and the North: Neil Farber and Michael Dumontier
Ontario: Chris Curreri
Quebec: Nadia Myre
Atlantic: Graeme Patterson
Read more about Patterson here, about his most recent AGNS show, Secret Citadel and here, about Patterson's first Sobey nomination.