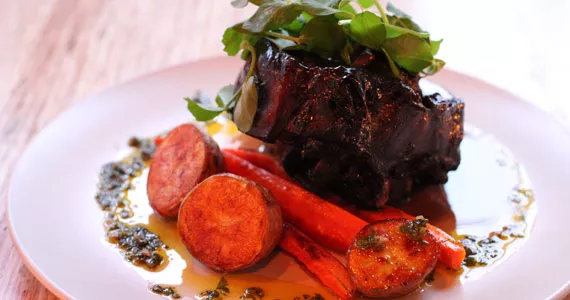 The train heaved its way through the countryside, a blur of yellow mustard flowers and salt and pepper specs of Holstein cows whisked by, punctuated by storybook towns and train stations that got smaller and smaller the further I strayed from Antwerp and Gent. Poperinge's train station is the size of Highfield Terminal in Dartmouth.
We had to call a taxi to take us to the winding country road in Belgium where In De Wulf sits surrounded by farmland and trees, and at least one sullen horse. Without a car of our own, there was no other way. It cost 60 Euro to get to Dranouter.
As a restaurant, In De Wulf is almost an expression of nature itself. Food is served on pottery, rocks and branches. Delicate flowers and tiny sprigs of fresh herbs decorate every plate.
Our meal featured cured mackerel served on smoking curryleaf, reedmace—cat tails—with sorrel, whelks speared onto tiny twigs, an oyster in whey, buried in a glow of mustard flowers. The entire meal was a beautiful, affirming experience, simplicity underscored with thoughtful complexity. Pristine flavours ranged from smooth and earthy to briny and bitter, salty and sweet, restraint and wildness ebbing and flowing like a full moon tide. It was a rare meal that changed the way I look at a plate. Especially when the plate was not a plate.
The pig skull was bright, a glowing matte white. The smooth surface crackled under my fingertips here and there, the bone wrinkled and split in snaky hairline fractures, the jagged jawline leading to a vacant, rickety smile. It was creepy, but it was beautiful.
A tiny flaxseed tart sat atop the skull, an impish pillbox hat decorated with a sprinkle of carrot flowers. The crisp shell held a gelee of pig brain, an earthy metallic pungency that squealed across my taste buds. It was more porky than Kim Cattrall's resume in 1982. It was unforgettable.
Field Guide, to my eye—and palate—is the closest thing Halifax has to the new natural approach to food. Chef Dan Vorstermans' vision is perhaps not yet as refined as Kobe Desramaults', but there is a green authenticity and instinctive creativity that makes each dish resonate on what feels like the same wavelegth, even if it is at a slightly different frequency. (And, of course, I could write an ode to the cocktails at Field Guide.)
Earlier this year, in the dead of winter, I had a dish that I still think about now and then. It showed a sense of adventure that I don't see that often in Halifax. It was also one of those rare moments in a restaurant where within an instant you understand not only more about the chef's perspective, but you learn that you can trust a server pretty implicitly.
"It's my favourite thing on the menu," said Josh, our server. He was enthusiastic, essentially making the decision for us through sheer fucking excitement. He was sure, so we were sure. Surety is my favourite quality in a server.
It was a little cake, slightly burnished and crispy on the top, with fat, fluffy curls of parsley tumbling into the thick swipe of sweet potato puree that the cake was nestled into. It was served on a wooden board, a picture of rustic elegance. Ultimately it was an incredibly simple dish that highlighted the rich beefiness of the tongue.
Field Guide to me has been consistently memorable in a way that is oddly rooted in ephemera. There is a fleeting beauty to each plate, in the curve of a paper thin slice of radish, the translucent green of a sheet of tomatillos or the twigs of dill that sit like plump trees on the cliff of a tender slice of fish belly.
Sometimes I don't even remember exactly what I ate—definitely not like I remember the beef tongue—but the delight lingers, equal in the beauty of the composed dish and of the demolished one. a
Read more reviews at thecoast.ca/restaurants