1 Read David Allen's Getting Things Done: The Art of Stress-free Productivity cover-to-cover. I still haven't gotten around to finishing it, but the four-page "welcome" was really quite inspiring.
2 Be productive and make a list of the things you have to do. It'll bring you closer to achievement, right?
3 Better yet, start a Pinterest board of ways to get organized. And one for the home office of your dreams. And the home you wish you owned. And the vacations you wish you were on. And...this one has a lot of potential.
4 Hammering out homework on a weekend? At dark, skip over to the Burke-Gaffney Observatory at SMU (923 Robie Street) and find a champagne supernova in the sky. On the second and fourth Fridays of the month (call 496-8257 for the up-to-date schedule) at 9pm or so (or around 7pm from November 1-March 31) there's a free public tour. You'll get to handle the monstrous telescope and see amazing things like saturn, rings and all, and an epically clear view of the moon. Clarity, that's what you need.
5 Track down the master of the mic, Laurie the Guy (Tuesdays at Monte's, 245 Waverley Drive; Wednesdays and Sundays at Michael's, 6100 Young Street; Thursday, Friday and Saturday at The Lion's Head Tavern, 3081 Robie St.). The nicest guy in karaoke will distract you from your procrastination shame with strange props and costumes, baffling pre-song segues and 27,000 songs to choose from.
6 It's super-hard to focus on anything when you're desk space is cluttered and chaotic, you don't want those vibes rubbing off on you. Straighten, tidy, re-organize and then take a photo and post it to you Instagram account. People are going to love this.
7 Pedal that stress away. Stop by the big green shipping container that houses I Heart Bikes' rental shop (Sands at Salter, Halifax Waterfront, 406-7774) and take one of their sweet rides for a spin. Better yet, sign up for one of their regular city tours and learn something you didn't know.
8 Cosmic Bingo doesn't get half the love it deserves in this town. Saturday nights at the Halifax Forum (2901 Windsor Street) the lights are black, the daubers are glow in the dark, and the music is pop-tastic. It runs from 10pm until midnight and you could win up to $1,000. Think about how far that could go.
9 Update your social media telling all of your friends how hard you're working.
10 Free your mind at the movies, it's the perfect way to pretend "this isn't happening, this isn't happening." Check out our little piece of movie history, the 75-year-old Oxford Theatre (6408 Quinpool Road), get a balcony seat, get extra butter, get two hours of solid postponement.
11 Challenge that random fact depository you call your brain at one of the city's great trivia nights (Tuesdays at Gus' Pub, 2605 Agricola Street, or Rockbottom, 5686 Spring Garden Road, Wednesdays at Rogues Roost, 5435 Spring Garden Road or Fridays at the T-Room, 1360 Barrington Street).
12 Though you haven't really worried much about your cardiovascular health before this moment, take a jog in Point Pleasant Park or up Citadel Hill. After that you'll probably need a nap before getting down to business, but, you know, them's the breaks.
13 Nothing new? Refresh your inbox. Nothing? Click again.
14 Go on a comic shop tour because Halifax and Dartmouth have some dandies that'll keep you busy for hours. Slap these unforgettable names into a Google Map: Strange Adventures (5110 Prince Street and 101 Portland Street), Quantum Frontier (3087 Robie Street), Giant Robot Comics (114 Woodlawn Drive) and Monster Comic Lounge (2091 Gottingen Street).
15 Set up a brewery tour at Propeller Brewery (2015 Gottingen Street, 422-7767) or Garrison Brewery (1149 Marginal Road, 453-5343). Whether you're into the science of beer or the sociology of drinking it, this is a cracking good time.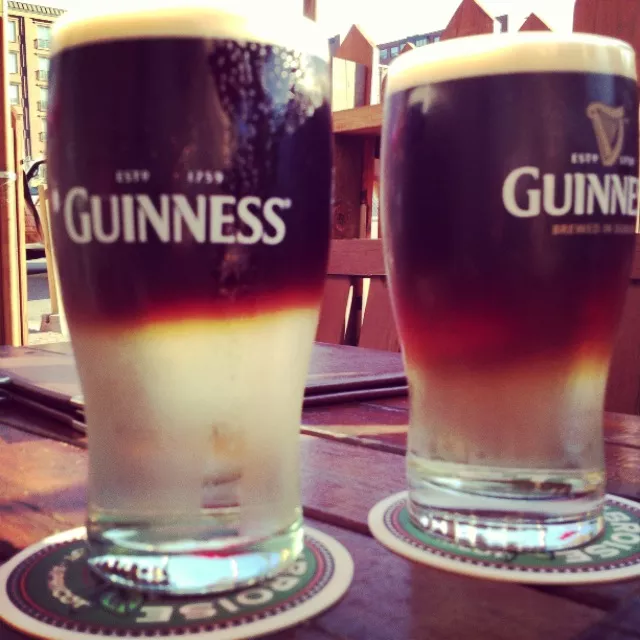 16 Sip on a Crown Float---half Guinness, half cider--- at The Foggy Goggle (1667 Argyle Street). A cold one of these on the patio will make you feel like you can achieve anything/like you could drink them all day long.
17 Didn't quite tackle David Allen? Google "beating procrastination" and read up on the Pomodoro method.
18 Get thyself to the nearest SPCA (11 Akerley Boulevard, suite 200), pronto! Why? Because if you're over 16 it's your god given right to snuggle all the kitties, and walk all the pups. And you wouldn't want to keep them waiting now, would you? Instead of the old "the dog ate my homework," file this one under "the dog's cuteness forced me to not do my homework."
19 Stock up on fresh produce and baked goods at one of the three farmers' markets accessible via the bus (Alderney Landing Farmers' Market, 2 Ochterloney Street; Historic Farmers' Market, 1496 Lower Water Street; Seaport Famers' Market, 1209 Marginal Road) then try to plot out how ensure you eat them before they rot and mould. What? It happens.
20 Laughter is the best medicine for all of your academic ailments. Follow the LOLs to the Khyber Sketch Comedy Series (monthly, Khyber Centre for the Arts, 1588 Barrington Street), MegaComedyMondays (Mondays, Gus' Pub & Grill), LaughterBurner (Wednesdays, Bearly's House of Blues, Burgers and Ribs, 1269 Barrington Street) or find HFX Comedy on Facebook for more events.
21 Get your adrenaline going with a salsa dance lesson at Pipa (1685 Argyle Street, $5) on Fridays at 9pm and then tear up the floor until 1am.
22 How tall is Taylor Swift, anyhow? Better put in some solid web trolling time to get to the bottom of this.
23 Make a list of places you'd like to volunteer your time, 'cause it seems like you have tons to spare. Bide Awhile Shelter? Ecology Action Centre? Common Roots Urban Farm? Phoenix House? The Youth Project?
24 Get energized with an affogatto from Dee Dee's Ice Cream (5668 Cornwallis Street). It's a focus-finder and time-waster often exercised by Team Coast. (We're also likely to pick up a burrito or two.)
25 Call your mom, she likely misses you and might just make you feel guilty enough to get to work. a