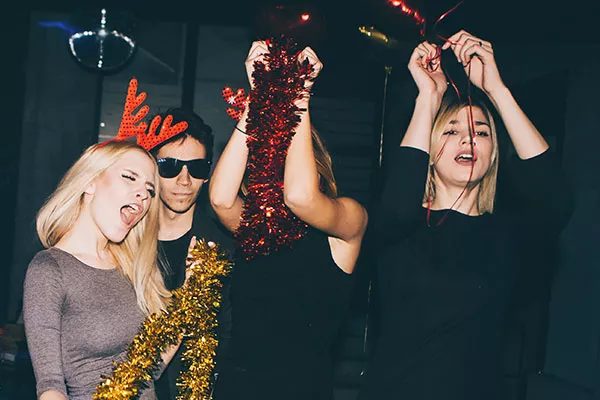 Welcome to the first big holiday season of Canada's post-Prohibition era. OK, maybe after Halloween, but that usually doesn't involve breaking bread with problematic relatives or all the pressure that December jingle-jangles in our faces. Cannabis is now a perfectly legal addition to parties, and an excellent tool to combat seasonal stress. But that doesn't mean you should over-shroud in skunk to stay sane! Here are some tips to handle your high during the holidays.
1 Choose CBD-rich strains
It's well-known that dosing CBD can reduce THC's potential to cause a "too high" paranoid feeling. Furthermore, the National Center for Biotechnology Information has found CBD can also enhance the pain-killing effects of THC. The indica strain Moon from Up Cannabis is an earthy mellow option, rich in inflammation-fighting terpenes like cymene and eucalyptol ($11.99 for one-gram pack at the NSLC, including Trudeau toking tax).
At a 2:1 THC/CBD ratio, Moon is a low-potency strain that emits mild euphoria and soothing physicality without causing total stoner lockdown.
2 Look for strains high in linalool or alpha/beta-pinene terps
Cannabis connoisseurs will speak about "the entourage effect," describing the alchemy of the plant's numerous properties working together to create the unique "highs" of various strains and phenotypes. It's not just THC or CBD creating sensations when smoking up, but a symphony of the plant's many compounds, especially terpenes.
If you want to spark one without spinning out, look for strains high in linalool, the terp responsible for lavender's heartily calming scent and renowned for its anti-anxiety properties. Pinene is nature's most common terpene. It is released through the blood-brain barrier quite quickly, and helps us stay alert. Linalool and pinene are great examples of how the entourage effect can curb the possibility of getting over-buzzed.
Legal weed gets analyzed for the THC and CBD percentages, and also the terpene profile. So don't be shy about asking your NSLC pot pro to help you find strains high in the terps you're seeking.
3Pre-roll joints or pack a vape, and leave the rest at home
If you got it chances are you'll smoke it, like the reefer version of Baroness Carolyn Taylor not understanding the term "left over wine." The holidays are a time of overconsumption in just about every way. But come on. Don't waste your weed, especially if you'll be consuming from the "other" section of the NSLC. Getting hammered and baked simultaneously becomes un-cute real quick. Best to bring a reasonable dose with you to the holiday dinner and dole out your tokes in a somewhat calculated manner.
Blueberry Kush from Haven Street is a sweet and earthy indica-dominant strain ($11.95 for one-gram pack). With a 16.4 percent THC count, it provides a cozy, gentle high. I categorize Blueberry Kush as a "daytime-friendly" indica and would recommend it for sharing amongst a spliff circle of varying tolerances. Haven Street's 21.4 percent Mango Kush indica, on the other hand, walloped me with dark and racing thoughts, so maybe not the strain to reach for during the vitamin D deprived yuletide ($9.95 for one-gram pack).
4 Don't smoke in secret (if you can help it)
Many keen consumers are still staving off their family's outdated, unfunny jabs about cannabis use, and the holidays might multiply how many clan members are around to perpetrate smoking stigma. Part of me is like, "it's legal now so fuck 'em!" The other part of me knows that when I was in the cannabis closet, secret smoking to get through otherwise anxious family time was a necessity—albeit one occasionally clouded by the paranoia of getting "caught." My relationship with my parents improved exponentially when my medicinal cannabis journey began, and microdosing before phone call catch-ups or bummed rides to Costco helps take the edge off my tendency to auto-teen in the passenger seat.
If you're looking for similar support, the buddy system just may keep you from green-ing out, or help give you some needed perspective to not freak about the famjam "knowing" you're high. Chances are at least a cousin or two will be down to go for a post-turkey stroll and pass that dutch with you, or at least keep you company while you consume. Either way that rolls, I again recommend the microdose, perhaps in a pre-packed vape.