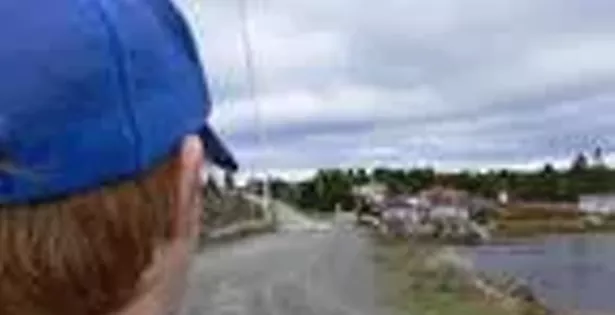 So I was given a book in the hopes it would inspire me to marathon greatness, but instead it has made me feel like a chump. Ultra Marathon Man – Confessions Of An All-Night Runner basically makes my little blog look like an elementary school track meet. Think a marathon is tough? Try running 135 miles through Death Valley in California. Better yet, how about a South Pole Marathon? There goes my book plans.
That being said, a 20-mile run is nothing to sneeze at for the vast majority of the population, which is what I had scheduled for Sunday afternoon. The route was entirely unplanned, but the plan was foolproof – drive along the coast for 30+ plus kilometers, then hop out of the car and run home. I even had a couple of accomplices – my neighbour Bethany and my girlfriend – who were more than happy to drop me off in the middle of nowhere and drive away.
After a brief discussion, we decided that the most interesting route would run along the 349, down to Purcell's Cove Road, and back along Chebucto to my house on the Commons. I checked the weather outside – it was frigid and windy – changed into a long sleeve running shirt and a pair of spandex (don't worry, I wore shorts on top to keep the run PG), and jumped into the car.
After a few minutes, it became apparent to Megan that the odometer was a little off. "Are you sure it's only 5K?" she asked while we were on Purcell's Cove Road. I initially pooh-poohed the notion, but after about a half an hour of driving, I started to think there was something wrong too. However, I didn't want the run to be too short, so we kept driving.
About 45 minutes later we pulled over at the end of a dirt road. According to the car, it was only 30 kilometers, but we couldn't go any further because we were at a dead end (somewhere called Bar Harbour Road) and I didn't feel like trying to backtrack for an extra six kilometers. We was in the middle of nowhere, it was freezing out, and I was nervous, so I got out of the car and started running, teeth chattering with each step.
My only real checkpoint was a little store that was approximately 3.6 kilometers away from where I was dropped off. I usually cover that distance in 18 minutes, so when it took me over 22 minutes to hit the store, I knew that the odometer had played a nasty trick on me. I couldn't really do anything about it, so I just kept running and hoped I would be close to my house when my legs gave out on me.
A lot of things went wrong on the run. First of all, I didn't apply enough Vaseline to a few important areas, which started chafing about a half an hour into my journey. I was also greeted with a frigid headwind that left me cold and uncomfortable. Best of all were the relentless hills that seemed to never end. I was getting discouraged in a hurry.
I quickly shifted focus to my immediate surroundings, and came to the realization that we have a lot of coves in Nova Scotia. Sandy Cove, Duncan's Cove, Herring Cove, Ferguson's Cove, Purcell's Cove. I don't think I have a favorite yet, but I'm leaning toward Sambro Head. It's a cove - it might be fjord - but it's close to the water and that is good enough for me.
After a while, all discomforts drifted away, and I started to enjoy the run. Sure, it was cold and windy, and my inner thigh was missing a layer of skin, but I felt like I could run forever. Even the endless hills weren't bugging me. I was a running machine.
I didn't start feeling any discernable fatigue until about two and a half hours into the run. By that point I could actually see the city in the distance, so that encouraged me to keep a decent pace. I hit the rotary twenty minutes later, but instead of running up Chebucto as dictated by my original plan, I turned right onto Quinpool, grabbed some fuel at a convenience store, and added a couple of kilometers around the neighbourhood before stopping in front of my house. Total time ran – three hours, eighteen minutes.
How far did I run? I am not sure. Based on the car ride and my various additions, approximately 32 kilometers. Based on the Google Map Pedometer, I ran 37.2 kilometers. I won't ever know exactly how far I ran, but I do know that I am ready for the marathon. Sure, it's not an ultra marathon, but it'll do for now. Now let's taper.