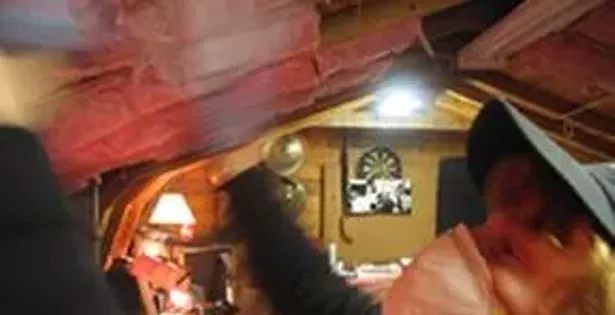 Just in case you all think I am slacking with the updates, let me defend myself – Hampton isn't exactly a Wifi hotspot. My last report was wired to the world wide web from a parking lot in East Saint John, and since then I haven't been anywhere near the internet. Hopefully the ample photos in the next two blogs will make up for my lack of words over the last day and a half.
The last time we chatted Chris was about to work on the chimney. I decided to join him, and then immediately remembered I was afraid of heights. To make matters worse, the chimney was on the very edge of the roof, which meant a 25-foot drop if anyone slipped. I think my fear was contagious, because after a few minutes of discussion, we decided the job would be safer if Chris picked up a harness. I guess the chimney will have to wait for another day.
Instead, we decided to insulate his home studio, or, as we like to call it, Primrose Hill (www.myspace.com/primrosehil). We aren't experienced handymen or anything (the chimney incident probably confirmed that), but between Chris, me, and our good friend Marc Gosselin – who arrived just in time to be put to work – we were able to finish the job in about three hours, which gave us plenty of time to listen to music and plan our eventual takeover of the local recording industry. Yeah, booze will do that do to you.
I am proud to note, however, that I did not touch a drop of wine, whiskey or beer during our insulating party. Instead, I spent my evening munching on pasta and chocolate macaroons while Chris and Marc slipped into a hazy stupor. I really wanted to join them, but with a long run scheduled for the next day it wasn't a good idea. There will be plenty of time to catch up with Jack and The Captain after November 5.
That's it for now, but be sure to check out tomorrow's blog for a recap of my 30K run. Chris and I mapped it out on Saturday, and not only is it ridiculously long, it's also absolutely beautiful. Hopefully the pictures will do it justice. Now if I could just find a way to Photoshop my way in front of some pyramids…