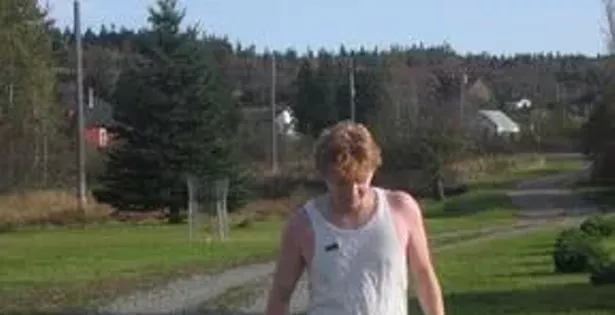 So I think I figured out why I was so cranky last blog – I am coming down with a cold. Not a terrible cold that's gonna knock me out for a week, but the annoying, lingering type that provides just enough discomfort to make life a little more annoying. I've been drinking lots of tea and eating disproportionate amounts of turkey soup (thanks Gord!), so hopefully I can get back into fighting form shortly.
The cold hasn't stopped me from running though. If the illness leads to respiratory problems (wheezing, coughing) I'll back off for a couple days, but right now it's just a runny, stuffy nose. As long as I don't overtrain – and I don't intend to this week – I should be fine. If any of you think differently, let me know. Pneumonia is never in season, no matter what the fashion shows tell you.
For the second Wednesday in a row I made it to the Running Room in tome for their weekly 6:00PM group outing. It was almost a perfect repeat of last week's adventure – same courses, same running partners – except I wussed out and decided to run eight kilometers instead of ten. I probably could have managed the extra two kilometers, but the first signs of the cold were starting to take hold and I didn't see anyone familiar in the group. Luckily Jerry was feeling the same way (he is tapering for PEI half marathon this weekend), so we ran together with a small group and chatted about training, jobs, and mortgages. Good times.
Aside from a few piss poor drivers cutting off crosswalk access – stop before the two white lines, people – the run was perfect. The only thing that could have improved the evening was a cold beer at the finish line, but I had to get home early. I was still tired from the 3AM blogging session on Tuesday, and I certainly wasn't about to repeat it again, at least not two days in a row.
That's it for now. I'm going home again this weekend, but hopefully it won't slow down the blogging one bit. If so some reason it does, feel free to check out my newly uploaded myspace page (www.myspace.com/chuckteed). It's not much to look at right now, but I plan on adding some extra running photos and videos there.
Don't expect any boudoir photos though. I am saving those for my pay site.