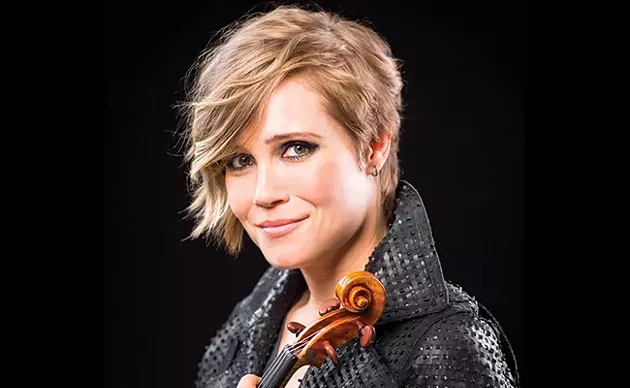 submitted
Leila Josefowicz
Hat Fitz & Cara Robinson w/Three Finger Shot
Aussie duo Hat Fitz & Cara Robinson bring bluesy rock'n'roll passion to The Carleton—with a retro-folk twist.
The Carleton Music Bar & Grill ,1685 Argyle Street, Thu., Sept. 14, 9 p.m.-1 a.m.
Hollerado
Hollerado loves its fans. So much so that the blues-funk-rock getup's 2015 effort,
111 Songs
, was a project where they wrote custom songs for specific fans (no, really). They just wanna love you, damnit, and this dance-y show will make feelings downright mutual.
The Seahorse Tavern, 2037 Gottingen Street, Thu., Sept. 14, 9 p.m., $15
Brian Wilson Presents Pet Sounds: The Final Performance
Wouldn't it be nice to see the
king of surf-rock
say so long to his band's most iconic album with what's sure to be an equally-iconic performance? Start saving for this big ticket now, kids, while you're waiting for the day. Scotiabank Centre, 5284 Duke Street, $99-$144.50, Sat Sep 16
Bruce Cockburn
Lovers in this dangerous time will no doubt want to witness the Canadian singer-songwriter belt out his ballads that veer from rock to folk. Rebecca Cohn Auditorium, 6101 University Avenue, Sat Sep 16, 7:30pm
Figure Walking w/Horses
Figure Walking are so green to the scene the duo's debut dropped mere months ago—but that didn't stop the effort,
The Big Other
, from landing on the 2017 Polaris Music Prize long list. Get lost in their sonic house built on dance beats and electric guitars (described as "jagged art house post-punk" by the band) at this show.
Art Bar + Projects, 1873 Granville Street, Sat., Sept. 16
Chris de Burgh
Looking for a little romance, given half a chance? See de Burgh croon "Lady In Red" at The Cohn and roll in the velvet-tinged, '80s vibes. Rebecca Cohn Auditorium, 6101 University Avenue, $61-$131, Sep 20-21, 7:30pm
Summer Wrap Party feat. Sonreal, Ria Mae, Felix Cartal, Neon Dreams, Elijah Wil
l Sure, Vancouver rapper Sonreal is getting top of the bill for this sweet summer send-off, but we're pumped to see Scotia scene-stars Ria Mae and Neon Dreams share a stage, mixing EDM and pop for maximum good vibes. Halifax Forum, 2901 Windsor Street, $10.13, Thu Sep 21
Alert The Medic Album Release Show
Steady-rockin' outfit Alert The Medic recruited Our Lady Peace's guitarist Mike Turner for its fourth full-length effort. Check out the result,
Let Them Have Their Fun
, at this album release show.
The Seahorse Tavern, 2037 Gottingen Street, Fri., Sept. 22, 10 p.m.
Jay Arner w/Moon, Municipality
Dreamy indie rock that'll have you swooning—and grooving.
Art Bar + Projects, 1873 Granville Street, Fri., Sept. 22, 9 p.m.-12:30 a.m.
Psallentes
These four fair maidens, all dressed in black, will sweep you back in time with their magic voices and world-famous plainchant performance. Need proof? Check out one of the over 25 recordings the Belgian medieval vocalists have dropped since 2000. St. Mary's Basilica, 1508 Barrington Street, $30, Sat Sep 23, 8pm
Ripcordz w/The Monoxides, The Holy Snappers
Canadian punk legend Ripcordz has been melting faces since 1980. See it draw from its iconic back catalogue of 15 (!!) records at this sick show.
Gus' Pub & Grill, 2605 Agricola Street, Sat., Sept. 23, 10 p.m.
Daniel O'Donnell
The Irish singer—who boasts over 31 albums in the UK's Top 30 charts and a bigger catalogue than fellow Irish music idols U2—brings an impressive catalogue on this North American tour that also features his longtime singing partner Mary Duff. Scotiabank Centre, 5284 Duke Street, $62.50, Mon Sep 25, 7:30pm
Aerialists w/Emily Millard
Drawing from the wells of Nordic and Gaelic music—while adding expansive post-rock textures and meticulously sculpted arrangements—Aerialists create lush, genre-defying new music. The Carleton Music Bar & Grill, 1685 Argyle Street, Tue., Sept. 26, 7:30-9 p.m.
Leila Josefowicz w/John Novacek
Consider this your golden (albeit expensive) ticket to see violinist Leila Josefowicz, a former child prodigy who's wowed the likes of Lucille Ball and Ronald Reagan since the age of 10. Here, she shares the stage with American superstar pianist John Novacek for part of The Music Room's Chamber Players 6th season. Sir James Dunn Theatre, 6101 University Avenue, $100, Wed Sep 27, 7pm
Every Time I Die w/Knocked Loose, Hollow Earth
New York metal core titan Every Time I Die has been shredding guitars and melting faces since the early 2000s, when the genre-revatlising Hot Damn! dropped like fire on our ears. Catch them at The Marquee for and #tbt it to your angsty younger self. The Marquee, 2037 Gottingen Street, $25/$30, Fri Sep 29, 9pm-2am
Totally Wicked Music Festival
Celebrating their alma mater's 130th, NSCAD alumni host this music fest that sees musicians who've never played together before take the stage together.
Art Bar + Projects, 1873 Granville Street, Fri., Sept. 29
Hopscotch Halifax Urban Arts Festival
The celebration of hip hop music and culture returns, lighting up Dartmouth Cove (20 Canal Street, Dartmouth) with live mural painting, breakdancing and, of course, rhyme slinging by both veteran emcees and novices alike. Sat., Sept. 30, 4-10 p.m.
Matt Andersen
Be prepared to be amazed by blues legend Matt Andersen as he combines his powerful sound and commanding stage presence with bold, new arrangements in this electrifying Symphony Nova Scotia collaboration. Fri., Sept. 29, 7:30 p.m. and Sat., Sept. 30, 7:30 p.m.
Walter Delahunt: Beethoven Sonatas
Think you love Beethoven? We bet Walter Delahunt trumps your super-fan status: The musician will play all 32 Beethoven Sonatas in a series of shows, starting with three October sessions. Music Room, 6181 Lady Hammond Road, $25, Mon Oct 2, 7:30pm; Wed Oct 11; Mon Oct 23
Quartet for the End of Time
Inner Space concerts, the sweet shows that bring classical concerts to private living rooms—creating an experience both sweeping and intimate—kicks off its season with what is perhaps it's most ambitious effort yet: Messiaen's Quartet for the End of Time. As Inner Space describes the show, "Quartet for the End of Time has deeply moved audiences since its 1941 premiere outdoors, in the rain, to 400 fellow prisoners in a German prison camp. Despite the decrepit instruments and grim circumstances, the audience was enraptured."
As with all Inner Space shows, exact ticket location will be revealed at time of purchase. Tue., Oct. 3, 7:30 p.m., $20-$43
A Tribute to Elvis w/Chris Connor and Pete Paquette
Get all shook up with this serving of jailhouse rock—and don't forget to wear your blue suede shoes. Rebecca Cohn Auditorium, 6101 University Avenue, $49-$55, Wed Oct 4, 7:30pm
Keltic Cowboys
The Keltic Cowboys bring their brand of Irish punk all the way from Arizona, so you better start practicing your moshing skills now.
Timber Lounge, 2712 Agricola Street, Thu., Oct. 5
The High Kings
This four piece sees the next generation of the Irish balladeer tradition come to foot-stomping life. Catch the Celtic vibes as it celebrates the 2016 effort Grace & Glory with this show. Rebecca Cohn Auditorium, 6101 University Avenue, $44-$55, Sat Oct 7, 7:30pm
Rumours: The Fleetwood Mac tribute show
Lightning strikes, maybe once, maybe twice—but wannabe Stevie Nicks won't wait for the second thunderclap to snap up tickets to this bold, boho ode to '70s rock.
Rebecca Cohn Auditorium, 6101 University Avenue, Mon., Oct. 9
Dallas Smith
He swapped alt-rock for country back in 2012—and now Halifax fans have the chance to see the former Default lead singer do his thing in a cowboy hat. Cunard Event Centre, Pier 23, 961 Marginal Road, $51-$63.50, Thu Oct 12, 7:30pm
Maureen Batt
Soprano Maureen Batt brings the epic with a powerhouse voice and classical style. Here, she celebrates her latest record, which features two song cycles based on Sir Walter Scott's (literally epic) poem
Lady of the Lake.
Halifax Central Library , 5440 Spring Garden Road, Thu., Oct. 12
Gypsophilia: The Final Show
Over 10 years, five albums and countless shows, Gypsophilia is finally hanging up its rhinestone-studded party hat. Say goodbye in sweet, jazzy style at this, the final show. The Marquee, 2037 Gottingen Street, $20, Fri Oct 13, 9pm-1am
The Karpinka Brothers
Joel Plaskett describes this Saskatchewan duo as "Buddy Holly boogie meets Crowded House," and that's enough of a sell for us. Timber Lounge , 2712 Agricola Street, Fri., Oct. 13
AFTER FUNK w/My Son The Hurricane, Stephen Lewis and the Big Band of Fun, RaSquatch
If the end of festival season has you feelin' blue and lonesome, get yourself to Oasis for this sonic sunbeam that features Toronto funk outfit AFTER FUNK and 14-piece brasshop funk beast My Son The Hurricane. Early bird tickets are already sold out, so get on it!
Oasis Pub & Eatery, 5661 Spring Garden Road, Sat., Oct. 14, 8 p.m.
The Northern Pikes
Celebrating the 30th anniversary of the Saskatoon rocker's debut album
Big Blue Sky
, The Northern Pikes bring '80s can-rock to Halifax—along with hits like "Things I Do For Money" and "Teenland." Casino Nova Scotia, 1983 Upper Water Street, $40-$45, Sat Oct 14, 8pm
Barenaked Ladies Canada 1 Five 0 Tour
BNL celebrate Canada's big birthday with a show that'll have you craving Kraft Dinner with million-dollar ketchup. Rebecca Cohn Auditorium, 6101 University Avenue, $67.50-$70.50, Wed Oct 18
Halifax Pop Explosion Music Festival & Conference
The biggest ticket of Halifax's fall music schedule is back again for
its 25th year
. With over dozens of artists, comedians and speakers across 15 venues, this festival will have the whole city popping off. halifaxpopexplosion.com, Oct. 18-21
Bill & Joel Plaskett: Re-Jigged Festival Gala Concert
If the family that plays together stays together, your hungry ears might get lucky and this father-son partnership will stick around! In the meantime, book it to the modern-tractional Celtic festival Rejigged to catch the acoustic guitar toting duo and bask in the warm-fuzzy vibes. Christ Church Hall, 61 Dundas Street, Dartmouth, $30, Sat Oct 21, 7-10pm
Symphony Meets Bhangra
The sunshine-bringing internet sensation that is the Maritime Bhangra Group shares its infectious glow as it teams up with Symphony Nova Scotia for a can't-stay-in-your-seat show. Canadian Museum of Immigration at Pier 21, 1055 Marginal Road, free, Sun Oct 22, 1:30 and 3pm
Denise Djokic
The Halifax cellist and critical darling returns home for a rare performance of Shostakovich's passionate, deeply moving Cello Concerto No. 1.
Rebecca Cohn Auditorium, 6101 University Avenue, Thu., Oct. 26, 7:30 p.m.
Christopher Cross
The '80s singer-songwriter brings a trove of new tunes to show he's still got it—not that fans ever questioned their doctor faith. Casino Nova Scotia, 1983 Upper Water Street, $60-$70, Fri Oct 27, 8pm
The Music of ABBA with Rajaton
Mamma Mia! Finland's multi-platinum vocal ensemble Rajaton teams up with Symphony Nova Scotia for an ABBA tribute so intense even Meryl Streep would slow-clap.
Rebecca Cohn Auditorium, 6101 University Avenue, Oct. 27-28, 7:30 p.m. and Sun., Oct. 29, 2 p.m.
Ô-Celli
If more really is more, this eight-piece cello outfit's full sound will make pieces ranging from Tchaikovsky to Strauss to Nino Rota sound better than ever. Lilian Piercey Concert Hall, 6199 Chebucto Road, www.ceciliaconcerts.ca/product/o-celli/, $30, Sun Oct 29, 2pm
Dinuk Wijeratne & Friends
Boundary-pushing composer Dinuk Wijeratne styled this show to give fans a peek into his creative process.
Music Room, 6181 Lady Hammond Road, Wed., Nov. 1, 7 p.m.
Blackie & The Rodeo Kings
What started off as a one-off tribute album to the great Canadian songwriter Willie P. Bennett has since spawned into the massive Blackie & The Rodeo Kings: Three friends, eight albums, one JUNO and two decades of rockin' all adds up to one big ticket, ya hear? Rebecca Cohn Auditorium, 6101 University Avenue, Thu Nov 2
The Fabulously Rich: A Tragically Hip tribute
Blow at high dough and feel ahead by a century as this collection of musicians raise funds for the Downie Wenjack Fund with a bunch of Hip hits.
The Seahorse Tavern, 2037 Gottingen Street, Fri., Nov. 3
Lisa Leblanc
In The Dead of Winter celebrates the beginning of shorter days by brining New Brunswick's banjo-toting, Acadian folk-trash queen Lisa Leblanc to The Seahorse stage. Feed your hungry ears her blend of Bob Dylan, Courtney Love and Dolly Parton—we promise you won't be sorry. The Seahorse, 2037 Gottingen Street, $15, Sat Nov 4, 7:30-10pm
PIGS: Canada's Pink Floyd
Arguably Canada's most dedicated Pink Floyd cover band, PIGS has been zig-zagging the country—and the dark side of the moon—since 2008. Tuck into long, psychedelic jams and impassioned renditions of emotional material as you bask in the throwback feels of the whole thing. The Marquee, 2037 Gottingen Street, $25, Sat Nov 4, 8pm
The Mavericks
Founded in 1989 in Miami, the Mavericks are a sonic blender of country, latin and rockabilly. Case in point? Their (arguably) biggest hit "All You Ever Do Is Bring Me Down". Back in action after a 2012 reunion, the group shares a blend of new songs and old favourites. Casino Nova Scotia, 1983 Upper Water Street, $65/$75, Wed Nov 8
Cherubini
Brahms' monumental Symphony No. 4 is an emotional masterwork, beloved for its deep intensity and compelling, lyrical beauty. Hear Symphony Nova Scotia's expanded orchestra perform this great work for the first time in a decade at this sweeping show.
Rebecca Cohn Auditorium, 6101 University Avenue, Sat., Nov. 11, 7:30 p.m.
Peter & Patty in concert
After 25 years of musical collaboration, flautist Patricia Creighton and pianist Peter Allen share a sort of greatest hits at this show—including the Dutilleux Sonatine. We recommend adding a classical cover of "You've Got A Friend In Me," too, for some on-vibe fun.
Music Room, 6181 Lady Hammond Road, Wed., Nov. 15, 7 p.m.
Espacées
Before his death, Edgar Varèse began planning a work that would tour the audience through a variety of spaces, soundscapes, and moods. Although the work was never completed, the idea has persisted that music and sound can happen in simultaneous space and time. Espacées builds on Varèse's foundation: The show features a new commission by James Ervin (trumpeter and performer with Walk off the Earth), spoken word by El Jones and music by Philip Glass that's experienced while the audience travels through different rooms.
Waegwoltic Club, 6549 Coburg Street, Thu., Nov. 16, 7:30 p.m.
David Myles
The folk-jazz guru who rocks a melody and slim-cut suit like few others returns for a celebration of his retro-y release Real Love. Bolo tie not included. Casino Nova Scotia, 1983 Upper Water Street, $35, Fri Nov 17, 8pm
Symphonic Soul: The Music of Motown
Berry Gordie himself would be a believer of this Symphony Nova Scotia set featuring the velvety-smooth song of Cyndi Cain, Owen Lee, and Dutch Robinson.
Rebecca Cohn Auditorium, 6101 University Avenue, Fri., Nov. 17, 7:30 p.m. and Sat., Nov. 18, 7:30 p.m.
Hey Ocean!
After a three year hiatus, indie darling Hey Ocean! returns with the ethereal, sweeping sounds fans love. Catch snippets from its upcoming LP and sway to the three-part harmonies at this sweet, intimate set. The Seahorse, 2037 Gottingen Street, $22.99/$27.99, Fri Nov 24, 9pm
Jesse Cook
Internationally-acclaimed guitar virtuoso and 11-time JUNO nominee Jesse Cook brings his smooth jazz style to Halifax in celebration of his August 2017 album Beyond Borders. Rebecca Cohn Auditorium, 6101 University Avenue, $51/$56, Fri Nov 24, 8pm
Walrus Album Release Show w/Like a Motorcycle, WHOOP-Szo, No Problem
The Halifax psych-rock outfit that's all about going its own way (and making quality tunes in the process) comes home to celebrate the release of its long-awaited LP
Family Hangover.
The Marquee Ballroom, 2037 Gottingen Street, Fri., Nov. 24, 10 p.m., $7-$11.10
Wannabe: A Spice Girls Tribute
Yo, I tell you what I want, what I really, really want: To rock Scary Spice buns and dance all night to the sweet bubblegum of the greatest gift to '90s AM radio. The Marquee, 2037 Gottingen Street, $21.99, Sat Nov 25, 8pm