JOB POSTING: Account Representative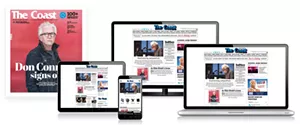 The Coast has an immediate opening for an Account Representative superstar!
Do you have experience selling to Halifax businesses and deliver GREAT customer service? Can you close a sale? If so, you might be the media sales superstar The Coast is looking for. The Coast has an opportunity for a Account Representative to take over a mature book of sales. We offer a very competitive compensation plan including base salary, commissions, bonus and benefits.
Essential Responsibilities
• Achieve and exceed planned annual revenue targets • Manage a mature client base and develop a strategy for long-term sustained success • Present and close strategic proposals which address client needs, audience and measurement of success • Understand the customer's needs and the audience they are trying to reach and provide ROI that customer requires to become a true partner in The Coast • Stay current with emerging advertising trends in order to provide the best solutions to customers • Consistently deliver excellent customer service
Qualifications
• Advertising experience digital, print and sponsorship • Excellent communication skills • Post secondary education in advertising/ marketing/sales or equivalent work experience • Strong computer skills (Mac environment) • Understanding of display and website advertising. • Strong prospecting skills and experience building a book of business • Strong negotiating and account planning skills • Well organized with an acute attention to detail • Ability to work independently and thrive in a busy, fast-paced environment If you have the passion to succeed, love Halifax and enjoy selling in a fast-paced, ever-changing environment, submit your resume along with a compelling cover letter to Christa Harrie
christah@thecoast.ca
. We thank in advance all applicants for their interest. Only those candidates under consideration will be contacted. No phone calls please.
The Coast is committed to employment equity and an inclusive, barrier-free selection process and work environment.