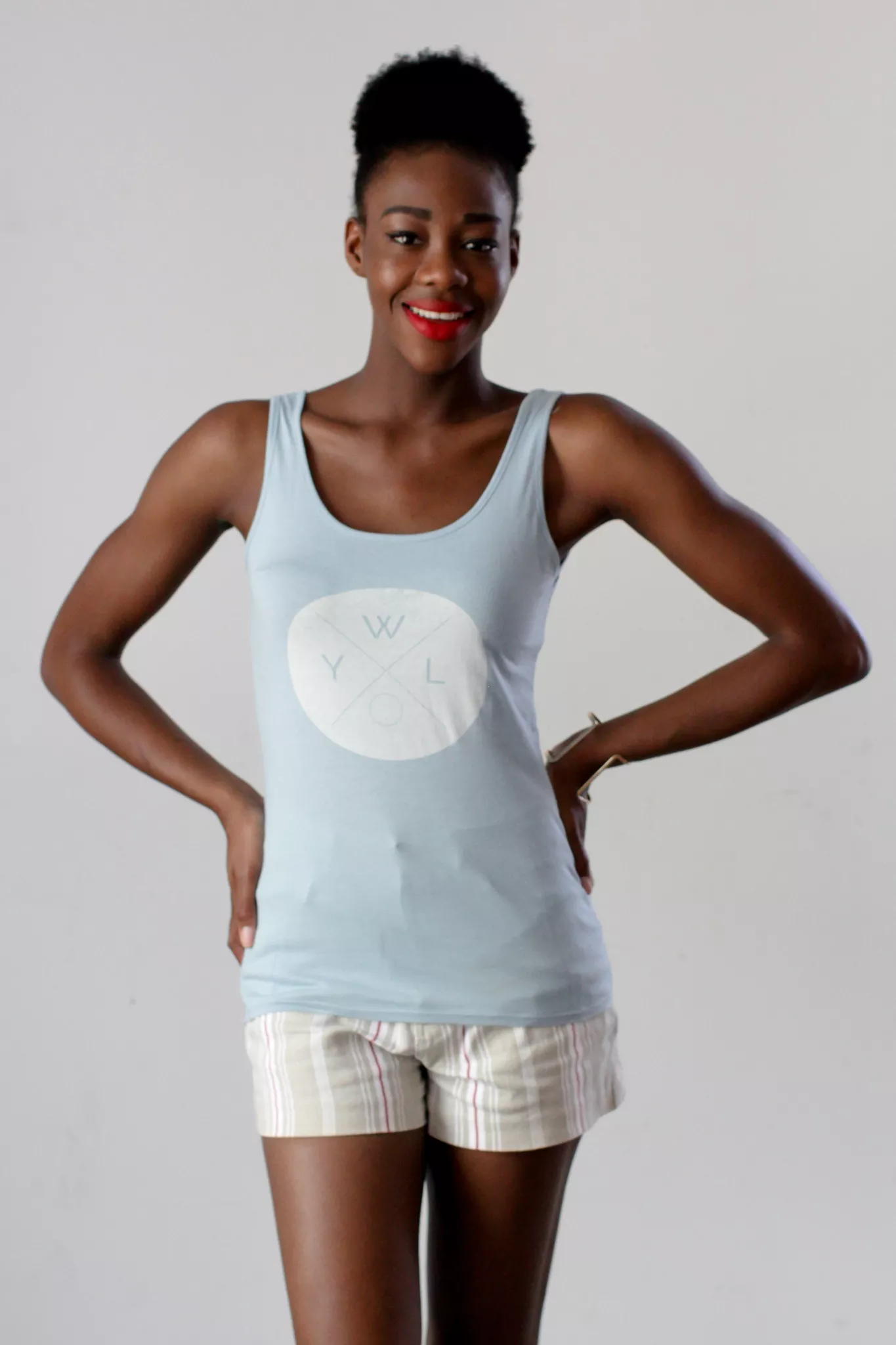 Atlantic Fashion Week is an exciting time. A fashion-loving citizen can both plan a new fall-winter look and get up close and personal with talented designers that probably shop at the same grocery store as you.
Now in its eighth year, AFW is holding two designer showcases, opening night Thursday, October 2 at O'Regans Mercedes Benz, 3585 Kempt Road at 7:30pm and the closing night at The Atrium in Dartmouth, Saturday, October 4 at 7:30pm. Both showcases are (SAD TROMBONE) sold out, so here's a totally not sold out look at this year's designers (it's never too early to pick favourites). You don't even have to get dressed up for this blog post. Good, right?
Opening night:
Wear Your Label: Fredericton based Wear Your Label make casual, conscious T-shirts, hats and tanks and beaded bracelets with a goal to address mental health issues. Co-founders and designers Kayley Reed and Kyle MacNevin quite literally encourage people to wear their label, and in the process take ownership over mental illness.
Dustin McCormack's Clever & Clueless: NB's McCormack has an eye for the cute and the cute-scary. Having recently debuted Clever & Clueless at September 27th's PHASE showcase, McCormack designs for the baddie in all of us.
Ashley Reading: Formerly Wear Blair, Ashley Reading Ready-To-Wear is hyper colourful, subtly sporty and ultra modern, like if the club was your gym, and really, why wouldn't it be?
Pam Matheson's The Esmé Original Jacket: No spoilers, but if you haven't watched the season premiere of Scandal yet, a) what's your damage? and b) you'll be relieved to know that Olivia still loves structured white statement jackets. If that is also your deal, pay close attention to The Esmé Original Jacket. Designer Pam Matheson doesn't mess with what works here. It's a jacket. It's a good jacket. Winter? It's handled.
Donn Sabean's Slow-dying Flowers: Sabean's debut collection encourages you to release your inner Stevie Nicks. Yards of silk and wool are hand-dyed with rain, ocean water and leaves, and sewn into flowing one of a kind garments. Samhain is coming, and you can't wear the same robe from last year, because your circle sister Sage Crystal will totally judge you, that bitch. In all seriousness though, I would wear this and never take it off.
Maggie MacCormack: Inspired by 1960s tennis wear and featuring buttons made by local jeweller Sarah Sears, MacCormack's designs are flowy, wearable and challenging.
Eman Mustafa: Mustafa's Eman line is timeless stuff, and I have flipped for her lines in previous years. Meticulous details, pleats and expert draping add up to some drool-worthy dresses. Read more about Mustafa here.
Michelle Noseworthy: New Brunswick designer Noseworthy specializes in bridal and formal—the woman knows what makes a gown a success. This year, Noseworthy will showcase two lines, one more trendy, made from recycled fabrics, and one modern line with interchangeable layers.
Anthony El-cid: Sometimes you want to drape yourself in structured ruby toned silk gowns, and nothing else will do. Sometimes that day is a Thursday evening in a Mercedes Benz dealership. I guarantee this Thursday will be one of those nights. El-cid deals in luxury for your dream red carpet lifestyle.
Vanessa Furlong's Nes'Pas: Historically, Furlong's designs have a bit for everyone, provided everyone is a fun cool person. There's not much there for you if you aren't fun or cool, so be warned. Lace! Loose pants! Suspenders! Saucy hemlines!
Perlae Couture: Ooh fancy lady! Two Cape Breton sisters are behind this line of cocktail and evening wear, it's clingy, for sure, but you're hot and can pull anything off.
Mo Handahu's Clutch Culture: A personal favourite, Handahu's line is packed with clutch purses each with unique bold patterns and prints. This year's showcase will also debut a menswear collection. Get ready, all the men in my life. Read more about Handahu here.
Closing night:
Jenn LeBlanc's Rainy Sunday: It's time to check yourself. You and I both know it's sweater season and one peep of those fine-ass knit drapey sweaters and floofy scarves and hats might bring you dangerously close to chucking handfuls of money at a model. Listen, they can't help you. Wait until the show is over and maybe try to get LeBlanc's card or something. Most importantly, calm down. Deep breaths.
Beck & Boosh: Trendy accessories are great, but fast fashion is yucky. Avoid the latter and get down with the former with Beck & Boosh. Designers Rebecca LaPointe and Miriah Kearney cast a wide net for all things hot at the moment and accessory-based. Affordable (and available at 26 Pseudio locations) too!
Taye Anita: Designer Taye Landry creates accessories for the music video in your mind. Faux fur everything in eye popping colours gives you no place to hide. But why are you hiding, sweet thing? Read more here.
Conni Zafiris' Zafira Apparel: Floral, flowy and fun, Zafiris' pieces read a little late 60s meets 2014. Rompers and tight patterns mesh with bright colours fit for a summer backyard BBQ, BYOJello mold. Read more about Zafira Apparel here.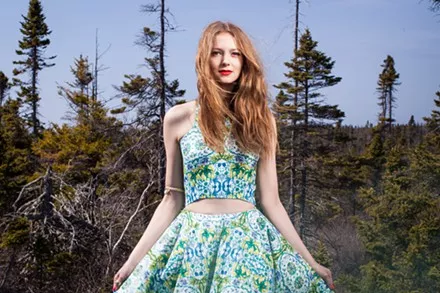 Sueno Swimwear: Joanna Tanter's Sueno line pleases your inner sexy beach babe surfer girl. It may be fall, but it's never too early to start thinking about summer again. Or at least to start thinking about your beach body AKA just your regular body AKA let's not talk about it right now.
Brittany Dawn's Vivacious Vixen: Halifax's Vargas girls can be spotted at Dawn's 6092 Cunard Street location, trying on Vivacious Vixen's retro rockabilly pinup fantasy pieces and destroying all records except those of Gene Vincent. It's a cool scene.
Anya Knees: Anya Knees is Ukrainian tailor Vlad Snytkin's drag alter ego. There will be unicorn horns courtesy of Kaidáin Ivy and Knees' designs inspired by Thierry Mugler. If you aren't vibrating in excitement at this description so far I don't want to know you.
Kaidáin Ivy: Ivy's unicorn horns are eerily realistic, and I'm venturing to say that they're probably a lot more wearable than you take them for. Taken in tandem with Anya Knees' designs, this is shaping up to be the most breath-taking segment of Saturday's show.
CBrido: Acadian designer Céline Brideau has been sewing since age 13. Her 2015 spring collection promises to be minimalist, in shades of beige. All the better to let your personality shine through, I imagine.
Amy Negus' All MY Fashions: Panels, ruffles and one of a kind pieces typify Amy Negus' designs. This is Negus' fifth year on the runway at AFW, showcasing her unique pieces to a loyal crowd.
House of Moda: Ozlem Metinoglu is an Istanbul native who has made a home for herself in Halifax, opening House of Moda. Metinoglu designs jewellery that has been worn by Beyoncé, and that's really all you need to know. You owe it to yourself to try to be more like her.
Blue Ladybug Design: Becky Gartner is a whiz at deconstructing clothing, taking the raw materials and turning them into something fun and timeless. Slow fashion without any of the snobbery.
Rosina Jaymes: Designer (and AFW organizer) Angela Campagnoni proved necessity is the mother (lol) of invention after the fashion industry mogul noticed a lack of fashionable maternity wear with her most recent pregnancy. The Rosina Jaymes line keeps a mom-to-be trendy and happy.
Veronica MacIsaac: Modern tartan fan MacIsaac nods to east coast heritage without being too twee or quaint. Think hot dresses that just so happen to have a Cape Breton flavour, instead of bonking the consumer over the head with over the top fiddle style. Please, we're way more sophisticated than that. MacIsaac knows.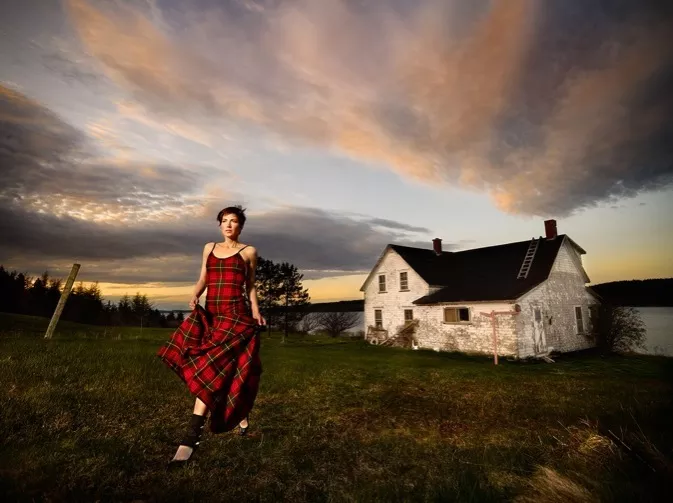 Kim Munson's Orphanage: You likely know Munson's signature style of upcycled, edgy and youthful pieces with a rock and roll feel (she's designed for Hawksley Workman and Shawn Desman). This year, she's trying something completely different… a mysterious end to this year's AFW!