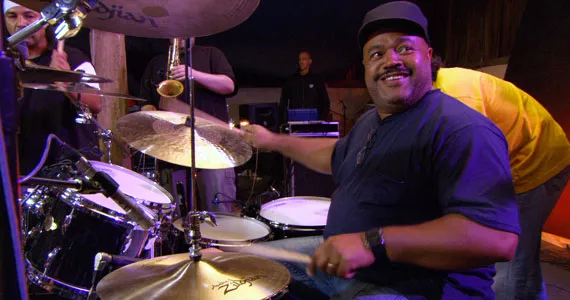 John Walker was 17 when his band was invited to open for Frank Zappa. The young Montreal drummer desperately wanted to go to California, but he had been offered a chance to fulfill his other passion working at a film studio.
Walker gave away his drums and wished his friends well. The band became '70s rockers Mahogany Rush. Walker went on to a career of over 35 years directing award-winning films.
"I never touched a pair of sticks again," he says. "I had to bury that. It was so emotional."
But things don't always stay buried, and the Halifax-based filmmaker has come full circle as the director of A Drummer's Dream, the award-winning documentary about a camp for drummers created on a remote farm. It has a special screening tonight at Park Lane.
The film sees seven legendary drummers convene to teach a group of 40 students how to jam. Legends such as Mike Mangini ("fastest hands in the world"), Latin drummer Giovanni Hidalgo and Walker's brother-in-law's brother Nasyr Abdul Al-Khabyyr.
The camp was Al-Khabyyr's idea. Walker heard about the plan from their nephew. "My first thought was, 'I have to go to this,'" he says. "And about 15 seconds later I'm like, 'Wow, I have to bring a film crew.'"
The resulting movie has played to enthusiastic audiences internationally; with screenings in France, South Korea, Cuba and Finland. Such multicultural enjoyment is something Walker attributes to the drummers' energizing spirit. "This is all part of a spiritual high that these guys are expressing, and it rubs off on you," he says. "I was so energized from that week that I was on a non-drug related high for months afterwards. That's what these guys give you."
Such energy, conveyed through so many of the film's multiple rhythmic sections, is an infectious part of A Drummer's Dream. It's also something Walker couldn't turn away from during filming.
He remembers smiling so hard through jazz fusion icon Dennis Chamber's non-stop 45-minute set that his cheeks began to burn. "I was saying to myself, 'When is he going to stop?'" explains Walker. "I felt like my brain was going to explode from the top of my head."
The filmmaker was right back in the musical ecstasy he had experienced in his adolescence; sharing the experience this time with a camp full of equally awestruck youths.
"The kids that arrived, couldn't believe it. Their mouths were hanging open," says Walker. That disbelief, shared by the filmmaker, turned to acceptance, and gradually the reawakening of some long-lost talents. Word spread throughout the camp that the man behind the camera used to drum, and on the final night's giant jam session, someone slapped a pair of sticks in Walker's hands.
"It's one of those moments when you're being dragged onto the dance floor," he says. "And if you say no, you're going to look like an idiot."
The scene, captured in his film, shows the reawakening joy of a man realizing his talents never really left him. Like so much from his experience at the camp, it's something that's stayed with him.
"I've bought a drum set and set it up in the living room," he says. "I'm playing every day, and I'm loving it.
"It's become this real rebirth."