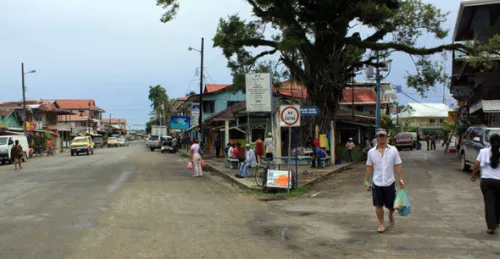 This is a great place.
Bocas del Toro is a small group of islands off the Caribbean side of Panama. The main town is a town—flat and slow; perfect for shambling around. It is very hot and nobody moves very quickly. It has many services for the tourists and the large number of Americans who seem to live here but there's also a visible and vibrant community of local folks. The islands are connected by water taxis and you get very quickly used to standing on the end of a dock to hail a cab. I am staying on Carenero Island, a two-minute ride from town, which is on Isla Colon.
Los Balcones Hotel faces the water. Steps up from the docks (where a giant catamaran has been parked) lead to a large open area with a bar and dining tables and big screen TV. The views are towards Colon and some of Carenero, plus a big big chunk of sky, this morning with blue clouds. A single hall leads back to the first floor rooms. In the morning I have to ask how to get out of the hotel on the land side: I want to go for a walk. Going through the hotel door is like going through a portal: the other side is that different.
It's a maze of paths between small houses, most raised off the ground. Chickens. Litter and garbage everywhere. Dog shit. Children, many in diapers, playing and crying. One small girl pushes a Pepsi crate around like a pram. Laundry. Sullen boys sitting. I make a chance choice and turn right. The path skirts the island. The maze of small houses gives way to larger houses, and a sidewalk appears for a while. No streets and no vehicles. A school. The sidewalk turns back to sand and there are a few small hotels and bars and restaurants out over the water on stilts. Conical thatched roofs. Then there are just the trees and sand and water.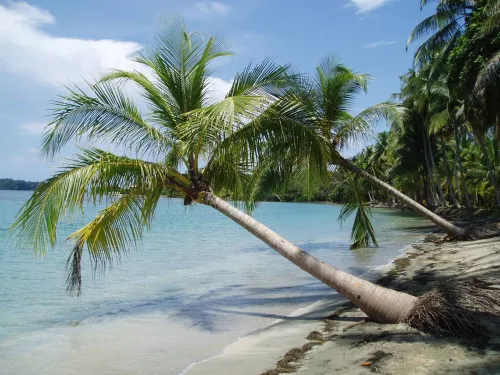 I walk and walk, meeting no one and I am really hot and have a big bib of sweat on my shirt. After about 40 minutes there is a barbed wire fence. The path has been getting more and more difficult, and beyond the fence I can't see where the path is, so I turn back.
By the time I get back to one of the bars on stilts and sit down for ice and a drink, I am drenched. By the time I get back to the hotel it's 11:30—I have been walking pretty much the whole morning. I turn on the air conditioning and fall down down for a heavy siesta with dark and confusing dreams.
I awake at 1:30 and am happy I haven't slept away the day. I head to the end of the dock and get a water taxi to town, and shuffle around, drinking, in the course of five hours: two bottles of water, two cans of Coke Light, a coffee con leche, a can of V8 and a can of club soda (which is probably not enough). When the heat gets to be too much I just plop down on the nearest curb that's in the shade.
It takes me an hour to find the bookstore, which is out by the airport which is about four blocks from main street and beside a baseball diamond. A plane is parked in the outfield and I am not exaggerating. There is no fence between third base and the plane and the small terminal.
As I approach the bookstore a guy calls out, "Welcome to Dogpatch!" This is David, an American who gave up the rat race five years ago. We smoke and chat and I ask how one might find a room to rent long term here. It turns out he has one, which is just being renovated and he shows it to me, only it is an apartment with bedroom, bathroom and open kitchen/living room. Double sink. Gas stove. Cable TV. He wants $350 a month for it.
I get his email address and wander back to Main Street. Since my first minute in Bocas Town I have been feeling I would like to stay here for a while; go back to Alajuela in Costa Rica and get the rest of my stuff and come back for a while and just see how things go here. It's great, tremendous fun to be mulling over such an idea.