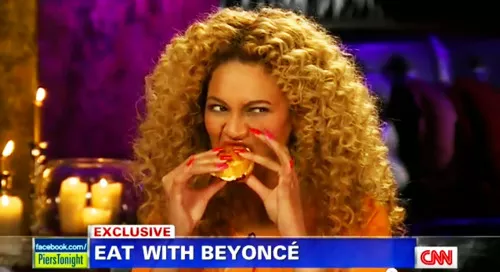 Feel free to be as jealous as you wanna be, but I'm heading to Toronto to see my supreme ruler Beyoncé this weekend and I am pretty psyched about it.
Of all the many amazing things I have thought might happen in advance of the concert (backup singer loses voice, I get called in; backup dancer sprains ankle; I get called in; Beyoncé decides she needs to turn "Halo" into a duet, I get called in; Blue Ivy needs babysitter, I get called in), I never dreamed I'd be browsing a special menu emailed out to all ticketholders on behalf of the Air Canada Centre, shilling their overpriced offerings "designed especially for Beyoncé fans".
Have a look/laugh, marvel over the fact that the Air Canada Centre must have SERIOUSLY SO MUCH MONEY and this is what they came up with, design-wise, for their "special" menu? Sweet Christ, I could have made something better looking than this in my sleep. And this is my speaking as someone who loves looking at pictures of Beyoncé. Just not like this. Never like this.
Also, talk about missing the boat majorly on naming foods to match up with Beyoncé songs, dudes. 'Cause we thought of these in like five minutes.
Run The World (Curly Fries)
If I Were A Boiled Dinner
Summertime Salad (w/Freakum Dressing)
Gravy in Love
Save the Hero sandwich

I've left some good songs for you guys. Comment away!