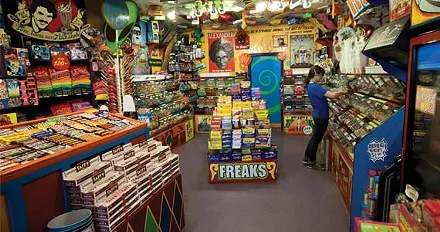 Halifax's candy store veteran is working on some new, and seriously freaky, headquarters. In time for its upcoming 15th anniversary, Freak Lunchbox's flagship store—which was born and raised at 1723 Barrington Street—is moving to bigger digs. Owner Jeremy Smith acquired the nearby 1729 Barrington Street (the former home of Hilltribe) in January and renovations have recently began. "We do have the philosophy to always be growing whether it's within current stores or building a new one," he says. "And it seemed like the right time to pay back the original location."
The new Freak is in very early planning stages (fall 2015 if the rough re-opening date), but will take over the large first floor of the building, as well as revamp the massive mural on the side of the building—something Smith hopes to get the public's input on. There'll be offices on the third floor, but the hope is to bring in another business or organization into the 1,000 square foot second floor space.
"I'm very inspired by Pro Skates, in terms of what they've done," he says referencing the addition of Oddfellows Barbershop and Anchored Espresso Bar & Toastery to Pro. "I think it really will be dependent on what it best fits Freak. I'm not just looking for a tenant, we want something that's going to improve the experience."
Smith encourages interested folks to reach out to freaklunchbox@eastlink.ca.