I've been anticipating the opening of the new Bridge Terminal since the day it was proposed. It's a great idea, is a wonderful advance for transit and will serve Dartmouth well. So I started pestering city officials for a tour of the new terminal months ago. It's not unusual for reporters to tour construction sites, but the city kept putting me off, saying, well, it was a construction site, so I couldn't tour it.
But out of the blue, yesterday the city's communications department sent out a general media email inviting all reporters to tour the Bridge Terminal today. We were told that steel-toed boots, hard hats and protective glasses would be required because, yep, it's a construction site.
Anyway, I was interested in a tour, but officials first made the collected reporters witness a dog-and-pony show of various politicians and officials taking credit for the new terminal. Those included Metro Transit manager Eddie Robar and infrastructure manager Terry Gallagher, who actually had a lot to do with the project, but also lame-duck mayor Peter Kelly and defence minister Peter "Helicopter" MacKay, as well as a bevy of city councillors, MLAs and their associated PR people.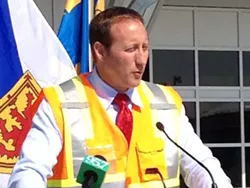 Peter MacKay praised Peter Kelly, then Peter Kelly praised Peter MacKay, then Becky Kent praised Darrell Dexter. After an interminable half-hour of this, we were brought into the terminal. Here are some pictures I took, and my impressions.