Doug Bamford works with his hands in his chosen profession---ceramics artist and professor at NSCAD University. But knowing that in advance still leaves a visitor to Bamford's north end home unprepared to find him applying an aluminum lacquer on boards laid out on his living room carpet, boards that will be part of cabinets going into his neighbour's kitchen. It makes sense, though: the kitchen in question was once owned by Bamford. Years ago he bought two adjacent row houses off Agricola Street, renovated them both, then sold one to a friend while continuing to reno and live in the other. But he's still happy to help out and has the skills to do so.
Bamford moved to Halifax from Ontario 15 years ago to study at NSCAD. At that point he was an artist, custom designer and fabricator. "I moved from Toronto, where artists rarely get to own houses," he says. "I was quite pleased how inexpensive real estate was comparatively." Shortly after he got hired by NSCAD, he and his partner started looking at places outside the city. But it was an ugly north end property---and an area of the city, in 2000, not nearly as appealing as it is now---that caught his eye, and the price was right at just under $100,000.
As with many Edwardian working-class homes in Halifax, the place was split into many small rooms, with coal-burning fireplaces. Small rooms were easier to heat. Plumbing was exterior to the walls, with cast-iron drainpipes in the bedrooms. And the house was also broken up into two flats, upstairs and downstairs.
"The first thing we did was open it up," says Bamford. "Everyone wants to live in a loft, a big open space." Chimneys were removed, old pine floors refinished. And there's more work to be done as the renos are ongoing.
After buying it, he got a look at the attached home next door. The owner, a woman in her 90s, lived there with her daughter. "It was like looking back at the turn of the century. They were cooking potatoes and a piece of fish on a double hot-plate. The house was ancient and original." When the woman died, Bamford bought her property, too. Two years later the market value of the homes had doubled. "With both houses, we completely gutted them. We saved those walls that were of value. We had to rewire. The plumbing was ancient and it had to go. So it was really like building new houses out of these old houses."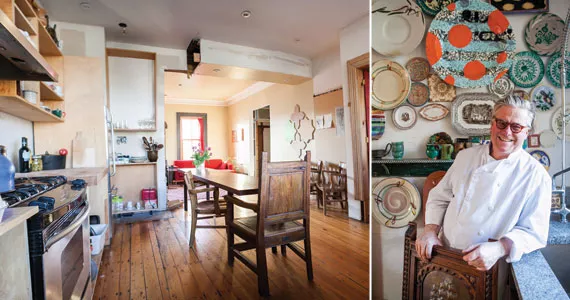 Bamford's rebuilding philosophy includes reusing and recycling. That means built-in desks constructed from Brazilian rosewood that once were desks at the Killam Library (sourced through Renovators Resource), and aluminum doors that once stood in a Purdy's Wharf office now grace the upstairs apartment next door.
Four years ago he had an energy survey done where they put, in Bamford's words, "a dental dam in the front door of the house." It scored in the highest percentile for an older home.
"All that renovating, new windows, new roof, all paid off," he says. "Working at the art college I meet a lot of young people who I like working with, and they have abilities that they don't know about yet." He realized that when getting students to help with renos, he was actually teaching them how to do the work, mentoring them. "I'm not really saving money"---he estimates over the years he's invested something close to the original cost of the house in renovations---"but with this team of young people we have a lot of fun and I'm passing on skills. I know it's done right because I'm there, watching it." Three of the guys who worked with him then are now full-time carpenters.
Bamford considers himself lucky that the timing worked so well, given the cost of homes today. "It's frightening," he says. "I don't know how people get in the game now."
Nelson's Foudroyant chair
Bamford's father was fond of sailing and history, as seen in this chair he bought at auction. It is built from the timbers of Admiral Horatio Nelson's battleship, Foudroyant, which was captured by the British from the French fleet and rebuilt to service Nelson. There's a plaque on the back commemorating the chair's origins.
Kitchen
"I laid it out in order to cook for a lot of people," says Bamford, sitting at his long dining table, pointing out a few restaurant fixtures such as the taps and gas range, with his collection of plates on one wall. "They take up so much room to store I put them on the wall."
Bathroom
"The tilework was in keeping with the bones of the house," says Bamford, who says he ripped out the bathroom and put in heating pipes under the floor. "This house has great bones, high ceilings and great mouldings. So, putting down a tile that is indicative of what the original may have been made sense to me. And very modern cabinetry."
Backyard
Bamford is a collector of architectural heritage, and so has been finding and acquiring bits of old buildings, including churches, those elements underpinning the garden. The rectangular shape of the garden reminded him of formal European gardens, for instance the ones at the Alhambra Palace in Granada, Spain. "You look out at a peaceful, earthly paradise that those Moorish, Islamic gardeners are so into."
In Islamic gardening there's often a watercourse that runs north and south, so he's planted a swath of blue scilla, the first plants to bloom in the spring. The water feature at the south end is a deep koi pond.