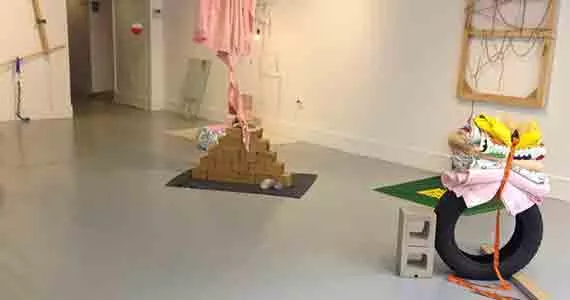 Bent based her show on a sense of community and respect.
"Being a sculpture student, I always felt like I had to be working with materials, but I don't actually like to make anything," states artist Abby Bent. "Sometimes I gather materials that I am drawn to and then I try to find patterns between them, through definition, use and how my body can interact with them."
Currently in her final year at NSCAD, Bent's work tends to take the form of performance and more process-based works, flipping the traditional notion of sculpture on its head. "I like objects," says Bent, "but I like them more within the context of understanding their relationships to space, people and narrative."
Bent's most recent output is collaborative, forming connections with artists whose sensibilities and approach to art making complement her own. The framework for her first curatorial experience was Playing Home, a show presented at the Anna Leonowens Gallery this past December. The space was filled with an assortment of objects, from truck tires arranged in sets of three, or adorned with a stack of multicoloured crochet squares, to an abandoned propeller and cerise material, slung awkwardly on an overhead neon rope. "I wanted to turn it into an opportunity to bring folks together," she says. "To try our hand at forming a show based primarily on a sense of community and respect for one another."