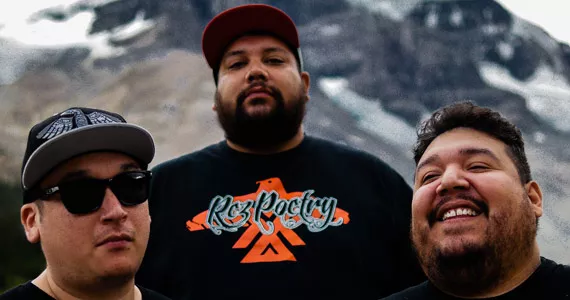 Brudder Falling Tree
"We're trying to get people to catch up," says A Tribe Called Red's DJ NDN, left.
"I think hip-hop got adopted very quickly by First Nations culture because of the idea of the struggle. Especially with hip-hop being born from the struggle of New York, it was something that First Nations children and kids growing up on the rez could identify with, and rightly so," says Ian Campeau (AKA DJ NDN) of Ottawa EDM group A Tribe Called Red. The Juno-winning Ojibway and Cayuga DJs headline Aboriginal Day's concert in Halifax, the eighth celebration of First Nations people in Canada.
"To me, Aboriginal Day shows a nationwide solidarity for indigenous people," says Campeau. "It's a big source of pride for a lot of people. We're over 700 distinct cultures and languages and nations and we rally behind this one day of solidarity." With performances by A Tribe Called Red, Radio Radio, Inez, Sierra Noble, Ashley MacIsaac and more, the concert bill reflects First Nations unity.
At the lighting of the sacred fire on Friday, on the eve of the summer solstice, the Halifax waterfront will become a spiritual and social sanctuary. Since 1996, Aboriginal Day has grown from coast to coast to coast, recognizing the contributions of First Nations, Inuit and Métis people to wider culture.
"It's no surprise to me that A Tribe Called Red, Joseph Boyden or many more---it's no surprise that these things are all happening for the first generation since residential schools," says Campeau. "The last schools closed by 1997 and here we are flourishing a generation later: becoming lawyers, reporters, novelists, musicians. It's really exciting to cross over into mainstream media. It's a really exciting time."
And A Tribe Called Red makes no exceptions. With a self-titled 2012 LP and the multiple award-winning Nation II Nation, the Tribe occupies a distinct cultural space in contemporary pop music. By merging current electronic dance and hip-hop sounds with traditional indigenous drumming and singing, the Tribe has created music that is completely inclusive and also totally, intentionally self-representative.
"We want it to be accessible, and we want conversations to be sparked. We use videos and samples from all kinds of popular culture," explains Campeau. "We use the media's rendition of what First Nations people are and what their role has been. It's a mirror we put up.
"We use one clip from Back to the Future III where Marty just got to 1885 and he's running from marauding Indians. Even though I'm a fan of the movie, when you see it, it paints us as one-dimensional, stereotypical, hooping and hollering Indians. And it's extremely racist. But we and the audience are looking at it differently; not through a colonial lens, but through an indigenous lens," he says. The group, and especially Campeau, have been outspoken and controversial activists for the Aboriginal community. "We're trying to get people to catch up and get rid of the stereotypical versions of who they think we are."
While the Tribe works on a new album for next year, the group will celebrate Aboriginal Day with fellow indigenous artists who are shaping more genuine perceptions of their own communities. "I'm completely flabbergasted we haven't received more criticism," says Campeau. "But that just means it's time for this to happen. That just means people are ready for it now."
---
Aboriginal Day Live and Celebration w/A Tribe Called Red, Radio Radio, Joey Stylez
Saturday, June 21 at 8pm, Free
Daylong celebration at 12pm
Halifax waterfront
aboriginaldaylive.com