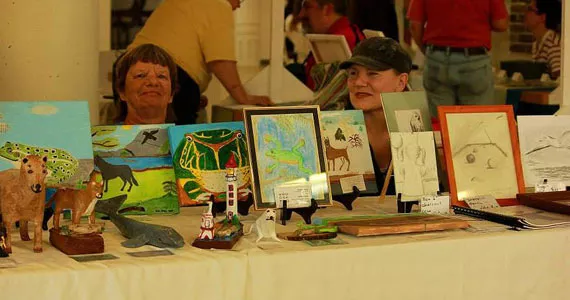 As Nicole McDonald sits in her power wheelchair in a workaday office, she smiles and laughs as she describes what the Art of Disability Festival is all about.
"To bring awareness is the big thing," says McDonald. "To bring awareness of what we can do and that we're not shy and we can be approachable and communicate—we just might have different ways of communicating."
McDonald is the coordinator of the fourth annual Art of Disability Festival, an accessible, one-day-only event at Alderney Landing that presents works produced by local people with disabilities. The festival will highlight a colourful palette of artists, performers and craftspeople, including singers, painters, photographers, a theatre group, an arts exploration group for youth with Down syndrome and DJ ACE!
"They can come and they have a chance to showcase their artwork and sell their artwork," says McDonald, "and it's open to the community, so it's an event where they can show the community what they're capable of and what their talents are."
The festival is produced by Independent Living Nova Scotia, a non-profit organization that runs a variety of outreach programs to help people with disabilities enhance their quality of life. To that end, the festival is as much about social integration as it is about art.
McDonald explains how people with disabilities face a lot of social barriers on a daily basis and she hopes the festival will help draw together able-bodied people and people with disabilities.
"I think there are some people who might be hesitant of talking to, you know, people with disabilities," explains McDonald. "So, by them coming to this event, it gives them a great opportunity to interact with us and see for themselves that we have talents and we can just be like anybody else in the community."
---
Art of Disability Festival
Thursday, July 30, 10am
Alderney Landing, 2 Ochterloney Street Dartmouth
free
www.ilns.ca
www.facebook.com/events/921695807886691