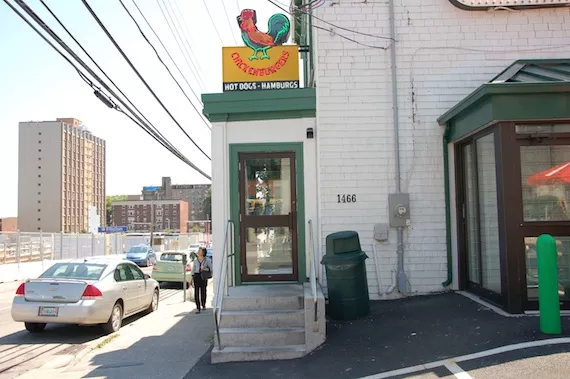 Business is booming at the new Queen Street Chickenburger, but not everyone can enter. Accessibility advocate Gus Reed says the new restaurant might as well have posted a sign on the doors saying people in wheelchairs are not welcome.
Reed has created an online pledge to boycott Chickenburger until it provides access to the inside dining area for wheelchair users, including accessible washrooms.
He is especially concerned that if wheelchair users can't even get into the restaurant, it will be impossible for them to work there.
"I hope that by going to the public in some way, that something will happen," says Reed.
"We are going to see what we can do," says Chickenburger owner Mickey MacDonald. MacDonald claims the historic nature of the building prevented it from being wheelchair accessible in the first place.
And MacDonald is not concerned that Chickenburger is unable to employ people who use wheelchairs. "Due to the nature of the business, you're dealing with food, hot food a lot of the time and it'd be hard for people in wheelchairs to be working at a restaurant anyway," he says.
As Reed see it, the solution for Chickenburger is simple: just build a ramp to get into the inside dining, which he assumes would probably not be prohibitively expensive. Reed says the bigger problem is that building codes don't require businesses to be wheelchair accessible.
Wheelchair accessibility is an issue for other stores in the Spring Garden area, in particular Jennifer's of Nova Scotia, says Reed. "If you're in a wheelchair you can't come in and complain, how will they ever know that you want to get in their store? There are any number of places that are difficult because of the steepness of the ramps or they don't have doors that are very useful, the accessibility of Spring Garden road is 'C+' at best."
Update: Gus Reed has detailed his complaint about Chickenburger on his blog.