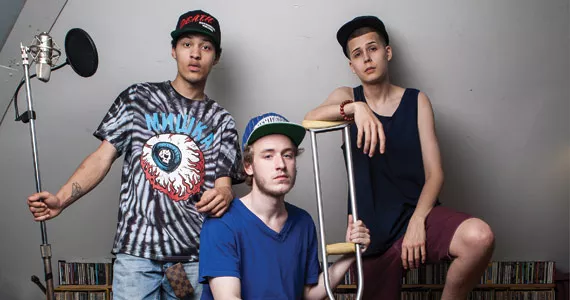 Justin Floyd
Acres and Acres tell the Truth and nothing but.
Kris Pope and David Scholten had it figured out. After a botched attempt at forming a rock band in their mid-20s, the singer-songwriters got it right with Down with the Butterfly, an alt-rock four-piece that cemented the idea of being career musicians for both young artists. They toured across Canada, made 18-hour road trips to Toronto, and opened for the likes of Metric and Wintersleep for east coast collegiate crowds.
But as the shows progressed, something changed. They got bored of the confines of standard rock n' roll. So one day when they were out an opening act, the pair sat down for what they now describe as a pre-show "Rust Never Sleeps acoustic sort of thing", and played some new songs they felt didn't quite fit with their existing rock band.
"We started working with people that wanted to explore more dynamic areas of music where not everything had to build up into an epic rock song," says Pope. "It could be as soft and gentle as we wanted."
They chose the name Acres and Acres. And when it came time to record a debut album, the duo sought out the limitless acoustics of a cathedral to capture its new brand of lush orchestration. Recorded in the north end's All Nations Christian Reformed Church, All Nations (2009) gained critical praise for its atmospheric beauty and subtle arrangements.
So when it was time to release a follow-up, there was no better place than the church that started it all. Three years after its debut, Acres and Acres return to All Nations this Saturday, November 24, for the official release of Truth and Sky, an album that finds the band landing sonically between its early rock years and Acres and Acres' initial acoustic experimentation. "It's all over the place," Pope says, laughing. "Nothing sounds the same."
Truth and Sky runs the gamut across the songwriters' careers, with some tracks only seeing the light of day after three or four separate attempts at recording. Leaving behind All Nations' live-off-the-floor approach, Truth and Sky creates even more depth than its acoustically ambitious predecessor, mixing cuts and snippets from different recording sessions and studios to create a rich sonic tapestry.
"We're definitely not inventing the process," Scholten says of the recording. "We were trying to get the best of both worlds where we get this sort of live, natural feeling groove, while adding these overdubs."
"We just really didn't know how to record them and we finally got to the point where we could do it through trial and error," Pope adds. "We were able to capture the live sound and feel with the best tones possible."
To recreate Truth and Sky's collaged tones and All Nations' acoustic expansiveness, there was no better place than the church that started it all. And as a thank-you for the good fortune the church has bestowed upon the pair over the years, a portion of the proceeds from the show will help benefit All Nations.
As the date fast approaches, Pope and Scholten say they've never worked so hard to put a show together. The group plans to perform with a five-piece band and string quartet, as well as a harmonic portion of The Ukeladies singing back up.
"It's going to be," says Pope, "one of the biggest productions we've ever done."
---
Acres and Acres album release
Saturday, November 24, 7:30pm, All Nations Church, 2535 Robie Street, $12