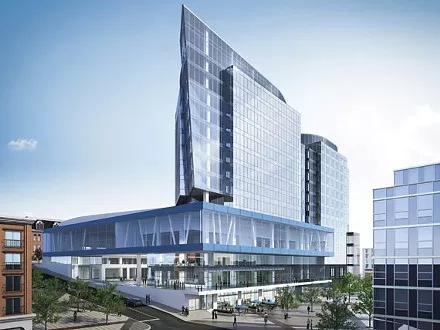 The province of Nova Scotia has finally finalized its agreement with Argyle Developments for the design, construction and lease of the new downtown convention centre.
With that announcement Wednesday comes news that the cost of the $164-million project is once again going up.
An additional $10 million will be needed to upgrade technological infrastructure requirements that wouldn't have been foreseeable eight years ago when this long sludge towards world-class started. Windows 7 didn't even exist back then.
"The upgrades include LED lighting in all client rental spaces, a full card-access system and advanced IT and audiovisual systems designed for current and future requirements," says today's joint release from the departments of Transportation and Infrastructure Renewal and Business.
"The installation of LED lighting is expected to result in a $400,000 annual saving compared to non-LED light fixtures."
Great.
Argyle Developments will be paying 50 percent of the $10 million cost for those upgrades. The province and Halifax will split the remaining five million over the centre's 25-year lease.
As the final agreement for the convention centre is now signed, that triggers the sale process for the current Convention Centre (which is ironically the old convention centre).
The municipality now has 90 days to decide if it wants to purchase the World Trade and Convention Centre down the road for its appraised value of $13.5 million.
If HRM doesn't purchase the 32-year-old property it will go up for sale on the open market. But the municipality will be forced to purchase the old convention centre if no buyer is found before the Nova Centre opens.
That's cool though because nobody knows when opening day is.
Developer Joe Ramia told Zane Woodford at Metro this week that neither the substantial completion date or the Nova Centre opening date have been finalized.
Total construction costs for the Halifax Convention Centre project is just over $164 million and is being cost-shared between the federal, provincial and municipal governments. Canada is chipping in for $52.4 million, while the province and HRM cover the remaining costs over the next 25 years.
Halifax (and Dartmouth) will have to start making those payments on the Nova Centre's completion date (whenever that is).