Well, I liked
Score: A Hockey Musical
more than my esteemed colleague Matt Semansky did in his
review
in the paper this week. I found it sweet and a bit silly and, well, perverse. I mean, who is the audience for this? Have Don Cherry fans been crying out long and hard for that Rock Em Sock Em musical? Or have all those
The Sound of Music
nuts been craving a song-and-dance piece about cross-checking? I'm just kinda tickled that it even exists. I may be in the minority, however. Someone in the biz later said to me at the party that he thought the film was "everything that is wrong with the Canadian film industry today." He thought it didn't work as a sports movie, the songs weren't any good and the actors couldn't sing. Before we could actually get to see the movie at the Oxford Theatre, we had to sit through a series of speeches.
Gavin Crawford
, who was playing MC, did his best to hurry it along with some "teen swarming" jokes, but it took awhile to get going.
Starting with AFF wizards
Gregor Ash
and
Lia Rinaldo
, always nice to hear from them. Ash mentioned that Victor's Place in Park Lane is the "Festival Headquarters," this year, where they'll be having panels. "A place to gather," he called it. I guess that's because they don't have the expansive eighth floor of the Delta anymore. I felt a little bad for the organizers and box office folks, huddled down in the Delta lobby, after all the space, light and views afforded in past years upstairs.
Then
Darrell Dexter
spoke about the AFF having "an important role" in promoting film in Atlantic Canada (as an economic and cultural force).
THEN we had
Carolle Brabant
, the executive director of Telefilm Canada come up and tell us that
Score: The Hockey Musical
director
Michael McGowan
is "a director to keep an eye on" before she suggested the following: "Wouldn't it be fun to see
Score
play in hockey arenas across the country? Especially here in in the east, in Crosby country?" Ah, so this is Telefilm's new idea to get Canadians to see Canadian film, show movies at rinks? Well, it's unorthodox, I'll give her that. I was thinking the internet might be the way to go, but hey, Carolle, whatever floats your boat. Finally the film's creators came out to say a few things (and returned for a brief Q & A afterwards): McGowan, song producer
Marco DiFelice,
executive producer
Jody Colero
, songwriter and actor
Hawksley Workman
and their female lead
Allie MacDonald
, who happens to hail from Cape Breton. MacDonald, who was lovely as the girl next door in the film, looked quite the glamorous movie star in a gold dress and sparkly clutch at the screening.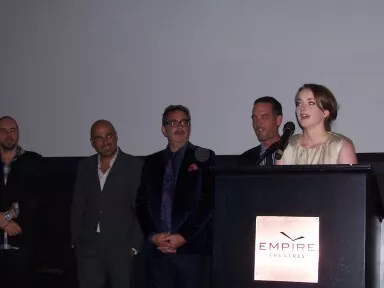 Oh, and what a strange thing... we didn't get to hear it, but apparently
Nelly Furtado
, who has a small role in the film, recorded a cover of
Rush
's "Time Stand Still" for the movie's end credits. That I'd like to hear. (Did you know
Aimee Mann
sang on the original version of that song? ) Then the party on Citadel Hill. MUCH IMPROVED over last year's Metro Centre event. Nicely done, all involved. (And nice touch to have the roast beast to munch on.) I chatted with a number of folks... the Coast cover star
Laura Dawe
, who remarked she was just happy to have finished her film on time. I met
Roller Town
production manager
Sean Doyle
who reported that all is going well on the set of that shoot, going on in town now. I also ran into director
Ashley McKenzie
, whose Film 5 short
Rhonda's Party
will be part of the Shorts 3 program on Monday evening. And filmmaker
Noah Pink
, whose short film
ZedCrew
went to Cannes this year. He says he's thinking of writing a Canadian spy thriller. Go to it sir, I say.
The only drag was the plug for the party was pulled at midnight... it felt like the thing was just getting going. Oh well, best not to burn out the first night. We have so many more to go.