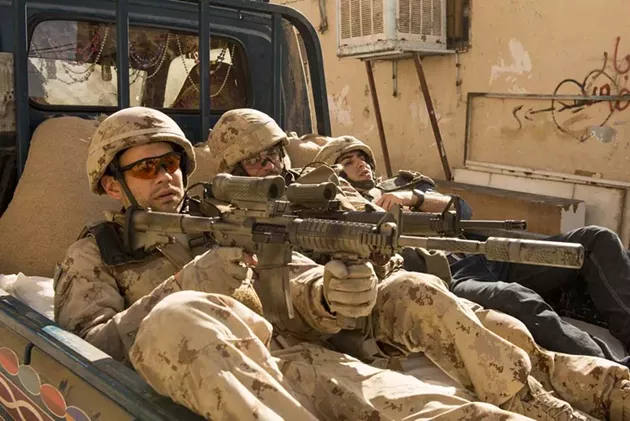 This week,
Paul Gross
(
Due South
,
Passchendaele
) premiered
Hyena Road,
the first Canadian contemporary war film, which he wrote and directed, at
TIFF
and last night at the
Atlantic Film Festival
. The Afghanistan-based, Jordan-shot film also stars
Allan Hawco
(
The Republic of Doyle
) and
Rossif Sutherland
(son of Donald Sutherland). And, just like the film, I'm conflicted. It feels like there are at least two elements that are at odds: its social value and its theatrical value.
Under social value, there's a lot to be said about
Hyena Road
's cultural relevance. Is it a coincidence that this opens just before a federal election? I wasn't sure if I wanted to attend AFF's red carpet opening at the Rebecca Cohn until I
watched a clip
of
Donald Sutherland
at TIFF. He was asked who he supports in federal politics. Without a pause, he answered "
Tom Mulclair
," noting his familial connection to social democrat,
Tommy Douglas
. He said we are destroying ourselves and ended with "Go see
Hyena Road.
" This makes more sense since I learned his son is in it, but at the time, I thought, well shit, if Don-Don is down, I should go.
So I went. And after about 30 minutes of speeches by directors and sponsors, Gross introduced
Hyena Road.
He explained that he visited Afghanistan in 2010 and 2011 and "cobbled together" stories from soldiers there: "I saw a glimpse into this extraordinarily complex world we've asked our soldiers to operate in, a world with no fixed moral compass. The burden upon our men and women in uniform is absolutely enormous. And I have largely been ignorant of that burden and I don't think I was alone. Large swaths of our country have no idea what we've asked of our soldiers ... And I felt deeply ashamed. We should at least know what it is we're asking them to do."
And so, as the first Canadian-made film about a contemporary war conflict, Gross delivered. As some form of historical record,
Hyena Road
was enthralling. In the last decade of war, despite American portrayals and occasional stories on CNN, I've never really considered the context or impact of the war in Afghanistan. I'd never thought about the landscape, the horrors of Kandahar, the class structures, the Taliban, the people whose lives are lost — Canadian and otherwise — the bodies flown home to families. I am, like so many North Americans, almost entirely removed from war. Almost entirely. For this reason, for lack of a better word, I was engrossed.
Our country is preparing to elect new leadership and
Hyena Road
has some utility in reminding us to ask ourselves
who we are
as Canadians, and
who we
want to be
as Canadians. Scenes in this film question or challenge our accepted moral and ethical practices. There were moments in this film where I felt ashamed like Gross — not because I had been ignorant of military duty, but because I can't reconcile our attempt to impose freedom on another country when freedom in this country, Canada, is on such flexible terms: What is 'freedom'? What is Bill C-51?
As a tool to think critically about international conflict, and to see Canadian soldiers in a context for which many ordinary Canadians have no context,
Hyena Road
sympathizes with and honours our soldiers. But it also seems to question why we fought this war in the first place. How much is one soldier worth? How big is the impact of military service? The film accomplishes this, at least.
But then there's
Hyena Road
's theatrical value — its execution from plot and character development to technique and cinematography. Early on, we are introduced to a roster of stock military characters, some of whom are accurate portrayals of people I've known in the service, complete with maple leaf tattoos and Newfoundland accents. But on a base with an estimated 60,000 people,
Hyena Road
lets us know only a handful, of whom
only two
were women (and superficial renderings to boot). Still, we are given reasons to like these characters. As much as they were token portrayals (the beefy Black guy, the horny female communications officer, the hunky sniper), we recognize these people. And while the film didn't take much time to explore their depth beyond what was useful to the storyline, and while some moments felt like they came out of the
Criminal Minds
writing room, it was all very human. And that's why I cried at the end. As Gross said, these soldiers are "our neighbours, our relatives, our friends and our fellow citizens."
In terms of the intricacies and motivations,
Hyena Road
relied too much on a flimsy intelligence operation between Afghanis and the Taliban that highlighted the obligation of Canadian intervention within it. At times,
Hyena Road
exoticized the Middle East by attributing magical powers to Taliban dissenters while it villainized the "Tally" through markers of wealth. Whatever reflection this has in reality was exaggerated. In short, this is a weak Hollywood plot with a strong background. Like any good war movie, however, there were some gruesome scenes that I did appreciate. After Gross told the audience how much he loved
Hobo with a Shotgun
, his interest in the accurate portrayal of violence gave some power to these scenes. It gave cause for PTSD, for high rates of suicide among retired soldiers and the overall trauma of military service. Unlike horror films, in which we enter a fantasy to escape, the horrors of
Hyena Road
are powerful because they are — indeed — real. Where the film lacks in fiction, it makes up in fact.
Hyena Road
is worth a view. It opens in Canadian theatres on October 9.