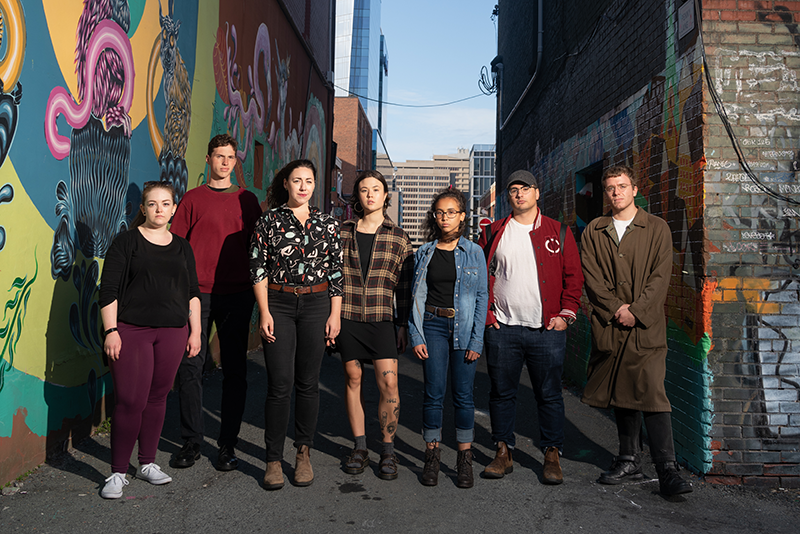 On October 21, thousands of Halifax youth will be flooding the polls and voting for the first time. With only two weeks remaining until Canada's next federal election, many are hoping that this year will beat out previous voter turnout records—68 percent in 2015—rather than marking the return of dismal turnout in 2008.
However, unlike past elections, this time there is no question of whether young people care about the future of Canadian politics. This time, it's a question of whether politicians are ready to meet their demands and offer them the representation they've been screaming for.
"When I was younger, I was really against voting," says Josh Creighton, a 21-year-old student enrolled in Dalhousie's international development program. Growing up in the north end, his community was often neglected by government and Creighton gradually lost confidence in Canadian politics throughout his childhood and into adolescence. But everything changed for him when he watched District 8 Councillor Lindell Smith run for municipal government.
"I was able to learn from him while watching him do his campaign. Even now, to see what he's currently doing for the community, it helps to see representation," says Creighton, who is now an avid voter. "It's a lot easier to participate in something that you can see yourself in."
Creighton, like a lot of young voters, struggled to associate the act of voting with the potential for change. Outnumbered, discouraged, and underrepresented, the power of the polls was a fantasy. This year, that is subject to change. This year, youth voters will officially outnumber baby boomers at the polls. According to Abacus Data, a research and strategy firm that focuses on voting trends and the youth, people ages 18 to 38 will represent around 37 percent of the voting pool, making this the year for youth representation.
"Young people have an important part to play in an election. Their votes can and do matter, especially when there are concerns of young people that aren't being addressed," says Anders Hayden, associate professor for the department of political science at Dalhousie University. "There's an effect that can happen in making the parties pay attention to issues of young people. If young people start going out to the polls, the parties will start paying attention because they're looking for more votes."
Some of the issues the youth have been emphasizing are acting on the climate crisis, affordable housing, an increased minimum wage and the state of Indigenous and immigration affairs. But when they raise their voices, they're not always heard. "We're often told we need to engage more and that we're too apathetic," says Rachel Morgan, a 26-year-old program manager at the Atlantic Council for International Cooperation. "Rather than telling youth they need to engage more, it is the political party's responsibility to engage with us and take our voices seriously."
It's one part paying more attention to youth, and other part creating a democratic process that youth can see themselves in. In 2015 Liberal leader Justin Trudeau's campaign was impossible to ignore as it presented Canadians with a youthful new prospect after the stagnant presence of Harper's regime. For the first time in years, young people had someone who was willing to engage with them on the campaign trail.
That trend has continued into this year's election. On a federal level, even the potential leaders are young. The ages of Andrew Scheer, Jagmeet Singh, and Justin Trudeau are 40, 40 and 47 years old, respectively.
In 2011, the three leaders of those same parties were 60, 61 and 64—greying hair on the whole lot of them.
And in Halifax, young candidates are keeping that momentum going. "There are now several candidates locally that are representing the youth as the youth," says Emily Miller, 26-year-old community development manager at Common Good Solutions. "With more and more young people running for office and raising their voices, these fresh perspectives are what will keep pushing towards a more progressive space. After all, that's what the youth perspective brings."
Change brought by increased representation in 2015 was felt in election results. We saw the largest increase in voter turnout aged 18 to 24 since 2004—from 38.8 percent in 2011 to 57.1 percent.
"Last election, youth turned up at the polls. We have to keep showing up," says Grant Ruffinengo, 23-year-old political science graduate from Dalhousie. "We have to show up at the debates, we have to show up at the polls and ultimately, if we want our voices to be heard, then we have to put in the work for that to happen and represent ourselves. I think our roles are changing in the fact that our voices are finally starting to be heard."
The report, "Can You Hear Me Now?" from The Samara Centre for Democracy also found that despite only 52 percent of young people reporting contact with parties in 2015— compared to 82 percent of voters 60 years and older—youth showed their willingness to get involved in the political process. They were also ready to change how people talk about elections, says Samara finding that only 36 percent of young people kept their voting experience to themselves, versus 60 percent of people aged 56 and over.

Alongside that momentum, Elections Canada has worked to improve access to voting on campus for students—extending opportunities to vote in their home ridings. In 2015, 39 educational institutions took part in the Vote on Campus program—and this year, it has expanded to more than 115.
On top of that, many young people have taken it upon themselves to start these organizations as a method to educate the public and request action from the government.
One of these organizations is Shake Up the Establishment, a non-partisan, youth- founded group hoping to make the climate crisis a priority in the election. It strives to provide scientifically backed information on the climate issue to try and assist with informed voting.
"We understand that most of these resources are overwhelming and long-winded and understand that some people don't have the same reading skills to be able to access and use these reports," said Sam Paton, a 21-year-old climate science content researcher. "I'm not a politics person, I'm a science person, so it's even been helpful to me to have these resources that have been put together by people with a background in the topic."
Even the youth who are not of age to vote this year are getting involved in the action. For them, the situation feels just as dire.
"Compared to the past, we have a lot more input, but I still want to see more," said Eric Loty, Grade 11 student at Citadel High School,."People should vote because it influences your life. You live here, so you have to vote. If you want to see change you have to go through with it yourself."
In 2015, 17.5 million votes were cast across the country. Right now there are roughly 50,000 potential voters in HRM aged 18-27. Will this university town make the difference?

---
Candidates Debate on Youth Issues

Thursday, Oct 10. 6-9pm
Italian Canadian Cultural Association, 2629 Agricola Sreet.
A discussion with all four Halifax candidates on how federal issues impact youth. Hosted by Global Shapers Halifax.