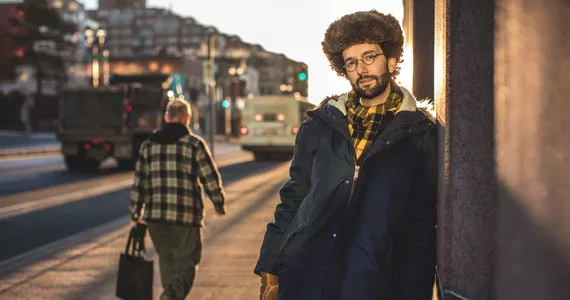 Riley Smith
Dalhousie planning student Adam Fine.
A research project examining how Alderney Drive affects walking in downtown Dartmouth concludes it's not a very appealing spot for pedestrians.
Adam Fine, a graduate student at Dalhousie University's School of Planning, has asked walkers about their usual routes in Dartmouth's compact downtown. People who did his survey last fall (Disclosure: I was one of them) mapped their established courses for strolling around the district, and participated in a short questionnaire.
Fine's master's program study showed more than 5,000 people live within 500 metres of the Alderney Drive corridor. Most pedestrians out of the 92 he surveyed said they didn't dislike or avoid the street as a walking route. But when they mapped out their routine walks, their routes told Fine a different story.
"It would be hard to make the case that people found [the street] appealing," his report says. "It is more likely that people choose it because it is one of the few routes available to get them to one destination or another."
Although Alderney Drive can be viewed as a walker's gateway to part of Dartmouth's waterfront, it includes less attractive components such as a nearby rail line regularly used by freight trains; parking lots; the vacant building that once housed Dartmouth City Hall and school board offices; and a couple of windy street corners. 
Other elements are a leafy green space between the street and train tracks, a "pocket park" named for Joseph Howe, the Queen Square office building and billboards off the side of the road. A section of the street doesn't have sidewalks.
Part of the municipality's vision for downtown Dartmouth, a city hall website says, is to have many new residents and businesses locate there by 2020, "while  maintaining a walkable, small-town feel, good design and public access to the waterfront."
Fine's three-month project doesn't have formal recommendations but includes such suggestions as remodelling the street to "make Alderney Drive as central to life in Dartmouth, as it is in fact."
His report also says further research is needed on the road's impact on public transit and vehicular traffic.
"It may be worth narrowing Alderney Drive, lowering traffic speeds, and improving sidewalks to make it a better environment for pedestrians," Fine's report says.
The development of Alderney Drive was one of those 1960s-era urban renewal projects that found life across the country. A city hall document on downtown Dartmouth, filed in 2013, said a 51-year-old central Dartmouth plan aimed to revitalize the local community. (Subsequent studies after 1966 also promoted significant changes.)
"This plan called for major new collector and arterial roads, and intensive redevelopment of older and supposedly blighted neighbourhoods and streetscapes," the municipality's 2013 document says. "All presumed that massive government investment was the key to success."
However, such was not the case, "as evidenced by public spending on the Alderney Drive waterfront expressway and on physical improvements to Portland Street. These initiatives failed to attract more businesses or residents" back in the old days.
Fast-forward to the Centre Plan that municipal officials have in store for parts of Halifax and Dartmouth. It's supposed to be more pedestrian-friendly than previous urban blueprints, a public meeting heard last October. In an interview in December, Fine acknowledged Alderney Drive is all about cars. He works in Dartmouth and uses the corridor to go to and from his office, on foot or by bicycle.
"It's a very vehicular-oriented space," says Fine. "It's about cars. It's about moving at a certain speed.
There's really "nothing on it for pedestrians to do, look at," he says. "It doesn't feel like a space that's pedestrian-oriented."