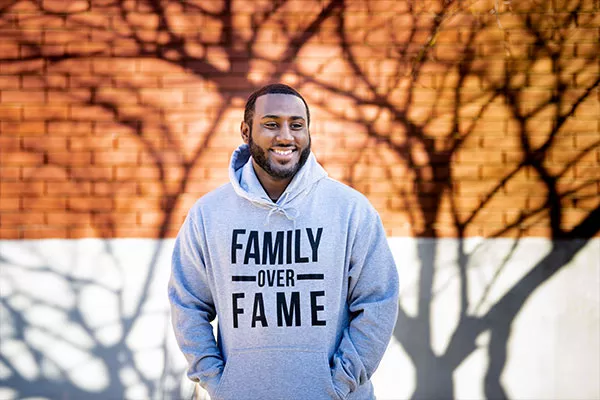 RYAN WILLIAMS
"There is so much negativity being shared about us but I am going to show that it's a new era. It's time to get rid of the stereotypes," says Ross.
In the Spring of 2015, a shy 18-year-old named Alex "Cunny" Ross laid down 10 of his songs over beats produced by future Halifax councillor Lindell Smith during a session at his neighbourhood studio. The "Young and Coming Up" mixtape—featuring his Centreline Studio pals such as
BenG
, Neptune and Honey—was burned onto 50 compact discs. Less than 48 hours later, all of the CDs were sold out and his music was being played on repeat throughout Uniacke Square.
As he rings
in
the end of 2018, Ross isn't out partying but instead putting the final touches on his third album, which he hopes to launch in the spring with the title track "Family Man." It's one of several ventures the young entrepreneur from Uniacke Square has in store for 2019.
"I have a few surprises up my sleeve," he says. "This album is like an update of my life. Through the past five years of experience, I have gained much more knowledge about myself as an artist and myself as a member of the community. It used to be about dreaming how to give back to the community, now they are helping me live my dream of starting my own record label one day."
Ross had only a year of songwriting experience under his belt before he launched his first mixtape, but the explosion of interest from his community launched him into quick action to create more music. In the fall of 2015, he released
Family Over Fame
, a 14-track album featuring other emerging local artists including Jayden Auston, Alyssa Flint, MAJE, Arenye, Woozy and RealEye, spawning the Squaretown favourite, R&B-infused single "Comin Thru." One week later, the album had more than 1,000 downloads on mixtape site DatPiff.com. He credits fellow Square resident JRDN (AKA Jordan Croucher) for his main inspiration.
"That's when the real hustle began," Ross says. "I lived and breathed promotion. It was all about creating music videos, remixes when I could, performing in shows and just trying to make a name for myself as Cunny the
hip- hop
artist."
It was during this hustle that he got the idea to sell merchandise to promote the mixtape. He partnered with Advanced Screen Printing and his logo designer Josh Carey to create his trademarked Family Over Fame apparel. The brand sold about 50 items in less than an hour and his clothing line was born. He's still handling hundreds of orders of hoodies, t-shirts and ball caps, which range in price from $25 to $50, and plans to launch a new design in February to coincide with African Heritage Month.
"Social media is really the main tool for growing the business, which I plan to keep home-based" Ross explains. "I started out posting photos of me living the brand on Facebook and Instagram and that led to people asking me about the clothing line. Now I see hundreds of new faces posting photos on social media with their Family Over Fame gear. It's a humbling and amazing thing to see."
Four years ago, Ross also started hosting an annual free barbecue and entertainment showcase. Last year's event saw more than 400 people turn up to celebrate his progress and the community's resilience. Footage from his events and other community stories will be showcased in a documentary currently be- ing filmed, featuring activists such as Lindell Smith, Marcus James, Tundé Balogun, El Jones and other emerging artists.
For Ross, his story is one of
family
—of his own single-mother upbringing that he says shaped his success—but also one of his community, which he considers his extended family.
"There is so much negativity being shared about us but I am going to show that it's a new era. It's time to get rid of the stereotypes. We've got amazing people living here and we've got an amazing story. I'm going to do all I can through music, business and community building to make sure the positivity is lived and shared."