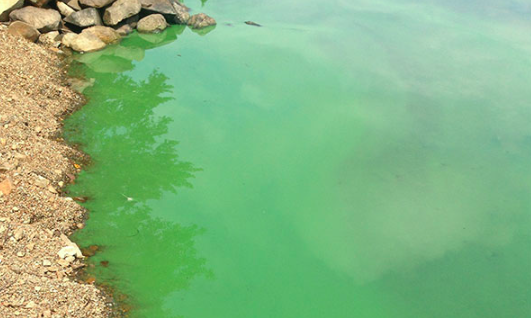 TRI NGUYEN-QUANG
A bloom in a lake in Yarmouth.
The headlines are frequent and ominous. A quick Google search summons warning after warning: satellite images of green spiralling across Lake Erie; health warnings plastered along rivers in Alberta; three dogs in New Brunswick, dead.
Halifax is not immune. In August, the municipality issued
a blue-green algae
warning for two Dartmouth lakes, Banook and Mi'kmaq. Both advisories were only lifted on Wednesday, after four weeks.
Tri Nguyen-Quang, a professor of engineering at Dalhousie University, isn't surprised. Across the province, he says, the blooms "seem worse and worse each year."
Nguyen-Quang has been studying blue-green algae since 2009, trying to answer the fundamental questions of how and why these blooms happen. He's been busy. He monitors a couple dozen lakes in Nova Scotia. It's a task that keeps him working at a furious pace—sampling, analyzing, reporting, rinse and repeat.
Every summer it's the same frantic routine. But answering the questions of why and how takes plenty of data. After four years of sampling, only now does Nguyen-Quang say his small team can begin to build predictive models.
Blue-green algae are a kind of bacteria—cyanobacteria—including over 2,000 species. Microscopic in size, cyanobacteria are one of nature's greatest minimalists. Because they need so little, they can survive almost anywhere—from African deserts to Antarctic ice.
But Nova Scotia, home to 3,000 lakes, is no longer just a survivable habitat. The province's waters are becoming ideal. Unsurprisingly, the factors responsible are distinctly human.
There are uncontrollable factors at
cause
, like light, humidity and temperature. And controllable factors? It comes down to nitrogen and phosphorus, leeching into the watershed from cracked septic tanks, leaking sewage and the ubiquitous use of fertilizers.
It's the combination of these factors
that's
particularly worrying. As our planet continues to warm, and if our watersheds remain neglected, Nguyen-Quang fears the blooms will only become worse.
If conditions are right, cyanobacteria—which usually remain at unobtrusive levels—reproduce furiously. One algal cell becomes two, two become four; quickly a darling swimming hole becomes messy, cloudy soup. It happens in freshwater, it happens in saltwater. Some blooms last days. Others, months.
And the list of symptoms associated with exposure is disturbing: rashes, red eyes, fevers, nausea and vomiting, to name a few. Lists of algal toxins, on the other hand, are downright terrifying: neurotoxins, hepatotoxins, dermatoxins—even one unsettlingly christened the Very Fast Death Factor.
To make matters worse, while many provinces experience a short rash of summer blooms, in Nova Scotia they're starting to appear as late as November.
Shutting down affected lakes is a good first step, Nguyen-Quang says. But it's a temporary solution. In the future, "we should think seriously about long-term monitoring."
If you see signs of a bloom—blue or green scum on the surface of the water—keep on dry land, he advises.
If you suspect an algal bloom contact HRM by calling 311 or email Nguyen-Quang at tri.nguyen-quang@dal.ca.