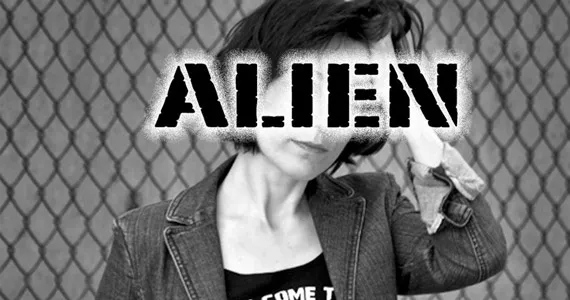 Playwright Annie Valentina is anxious about her tell-all autobiographic production, Alien. Directed by Margaret Legere, Alien is based on Valentina's experiences as an immigrant, born in Bulgaria, whose parents moved her family to Norway in 1990, and eventually her solo move to Canada in 2000.
"Neither relocation was supposed to be permanent, but things don't always play out the way you think they will, and sometimes, that's what makes for a great story," says Valentina. "It feels super-vulnerable to stand alone on a stage for 50 minutes and talk about your life. I'm giving up lots that I instinctively want to protect."
While all the events told in the play are true, many of them have never been shared in public before. Valentina started working on the first draft of the play over three years ago at PARC Playwrights' Colony, and originally conceived it as a cast of four. She's stripped down the narrative, and recreated it as a solo show.
"I've been wanting to write about being an immigrant for a long time," she says. "There's a certain permanent sense of loss, of displacement, that you come to know, which I think speaks to the human condition at large. The search for a place to call home, literally and metaphorically, is integral to all of us."
For Alien, she took a non-linear poetic approach to writing. Fellow actor and friend Legere understood Valentina's vision, and brings her story into fruition with alluring visuals. Both Valentina and Legere have found a sense of home amongst Halifax's theatre community, and the Atlantic Fringe Festival.
"The Fringe gives a great, accessible forum to theatre artists of all levels and experience, says Valentina. "But to professional artists in particular it allows us to put work-in-development to the test in a low-risk, low-cost environment."