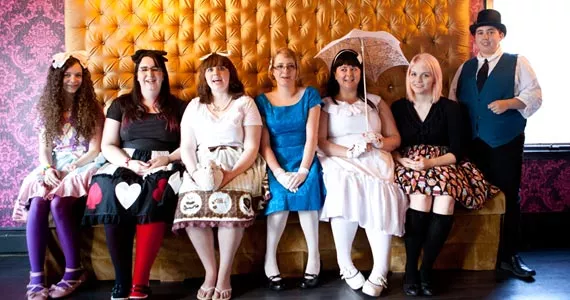 Halifax's Lolitas are all about dressing up
A regular sight in Japan's Harajuku district, flamboyant Lolita styles are turning heads in Halifax. Jacob Boon sizes up the small, strong scene.
Most of the people at the Halifax Forum this balmy Saturday afternoon are dressed for the heat. But several young women are gathered in a slightly more demure fashion. They're Halifax's Lolitas, and they're used to a little discomfort.
"It is not practical at all," says Stacy Lepage. "Fashion over function, definitely. The shoes are usually incredibly uncomfortable, and especially in summer the dresses are really, really warm."
Originating in Japan in the 1980s, Lolita fashion is a cultural hybridization of Victorian and French Rococo styles, focused through a kitschy cute aesthetic. It also has no connection to the more well-known Western reference for sexualized children. These Lolitas are about dressing for themselves; being feminine without being sexual.
"Lolita's about covering up," says Lepage. "It's a very modest style. I mean, there's always going to be people who fetishize everything, but not really. It's just fun. Girls like to dress up."
It's a refined, lace-frills and petticoats style that nevertheless comes in a wide array of permutations. Gothic Lolitas dress in blacks and dark colours while sweet Lolitas opt for pastels and lace. Sailor Lolitas riff on Japanese schoolgirl uniforms (think Sailor Moon) while punk Lolitas incorporate chains and spikes into their costumes.
Lepage sells varied Lolita and Japanese-inspired items at Toxic Blossom, her store inside the Plan B Merchant Co-op. Along with her business partner, she makes all the skirts, petticoats and bloomers herself.
"There's not a lot of options for fabrics in Halifax. So I go to Fabricville, and look at the quilting cottons since there's usually lots of fun colours in them. And sometimes I use recycled fabrics.
"This," she says, gesturing to a skirt, "was a Strawberry Shortcake flannel bed sheet."
Ashley Baker is usually in charge of organizing these monthly meet-ups for the 50 or so members in their Lolita group. Today's plan originally called for a picnic in Point Pleasant before rain warnings moved things inside the Forum's Christmas in July craft show. Later on, the Lolitas will be heading out for cheesecake.
"We usually go out for picnics, maybe movies," says Baker. "Window shopping, tea, cheesecake, dinner; just kind of whatever we feel like doing at the time. I think maybe next month the girls we're talking about going to karaoke."
Baker's been dressing Lolita for several years now, and depending on interchangeable elements, has between 10 and 20 outfits of her own. The upkeep of such ostentatious costumes, not to mention shoes, parasols, wigs and other accessories, can be tricky.
And how do people react when she walks down the street fully regaled?
"My first event I had to pop into Sobeys and this guy was sitting in the back of his mom's minivan, and he screamed out that we were losers."
Minivan man was in the minority though. Baker and the other Lolitas say they receive more positive feedback than negative when out and about, especially from the elderly.
An accepting crowd will likely be on hand this Saturday, when Victoria MacDonald will host a Gothic Lolita gathering during the Pride parade on Spring Garden Road.
"We're going to hopefully be meeting at the Second Cup, around 1:30 in the afternoon," she says. "So if we're there in time to watch [the parade] we're going to go out and watch that. And do some window shopping, get some ice cream, converse and gossip."
MacDonald expects Lolitas from the city, as well as other Nova Scotian communities to make appearances. And encourages anyone curious about it to come on out as well.
"We don't want to push anyone out," she says, "that would be just, not Lolita."