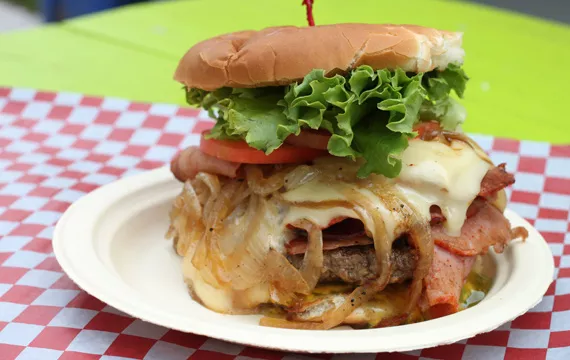 The capicollo burger's sweet onions, cured ham and creamy mozarella are a great combo.
Red, green and yellow horizontal stripes cover the White Sails Bakery & Deli, making the restaurant an unexpected yet easy-to-spot rainbow on the side of Peggys Cove Road in Tantallon. A big lawn, covered with an array of Adirondack chairs and picnic tables, slopes down to the water of Whynachts Cove. It looks like a tourist trap. Nothing says "summer" like a tourist trap.
The inside is cramped. There are only a couple of tables tucked into a small dining room. Counters and the kitchen take up almost all of the space, along with a few shelves lined with cookies and bread, jars of pickles and jams. A display counter has pies and quiche, squares and eclairs. There are a few servers taking orders and cooks at the grills.
The menu features a lot of Montreal-inspired deli options, from smoked meat sandwiches to Reubens, as well as hot dogs, hamburgers, sandwiches on freshly baked bread, hand-cut fries and homemade soups.
I order the fried bologna sandwich ($6.96) and Italian fries ($6.52), while Chris orders the capicollo burger ($7.96) and Kate gets the split pea soup with ham ($5.95).
A pile of thinly shaved bologna teeters in the sandwich. It doesn't look like much, less than an inch thick, but it's warm and tender and has just a hint of caramel flavour from the grill that plays off the salty meat very nicely. The only topping I add is a honey mayonnaise that adds even more sweetness and a nice creaminess to each bite. On the fluffy homemade white bread, it's pretty much a perfect sandwich: it's simple comfort food done absolutely right.
What the sandwich lacked in visual impact the burger makes up for. It's a sloppy work of art, a rainbow of crisp and melting colour. The burger patty itself is barely visible under a pile of pink capicollo and ribbons of caramelized onions that are sliding down a melting sheet of mozzarella. Chris has added the works–lettuce, tomato, mustard, relish and ketchup–so it's almost unwieldy in size.
The burgers are cooked to to well-done at White Sails–165 is the minimum temperature by the time they're pulled from the grill –but the patty is still moist and flavourful. It's hard to get a real beat on it with all of the other toppings, but the sweet onions, delicately salty and spicy cured ham and creamy mozzarella are a great combination.
The split pea soup is also great. The soup is a thick puree with some chunks of vegetables, most notably carrot. It's hearty and has a nice, slightly earthy flavour. Small pieces of ham add a pleasant salty note. It's served with a thick slice of multigrain bread fresh from the bakery.
The soup and sandwiches are so filling that the Italian fries feel superfluous. The thick, hand-cut fries are very good, though, and the parmesan-flecked Bolognese sauce they're topped with has a surprising sweetness to it that makes it a great topping. Still, we abandon the dish unfinished.
We bring our trays back in when we're done, ready to shop at the bakery. The owner checks in with us one at a time to make sure we enjoyed the meal, genuinely concerned with our satisfaction. Then he hops behind the counter and helps us pick out our sweets. I leave with a sugar pie ($12.95) and a quiche ($13.95), of which I have a slice for supper–it's bacon and caramelized onion with cheddar. Flaky crust, creamy custard, hints of sweetness, smokiness and sharpness: this might be the best quiche I've ever had.
The White Sails may seem like a tourist trap, but it's one I'd be happy to be snared in any time. Summer, winter–doesn't matter to me. The bait is irresistible
---
White Sails Bakery & Deli, 12930 Peggy's Cove Road, 826-1966, Sun-Sat, 10am-8pm