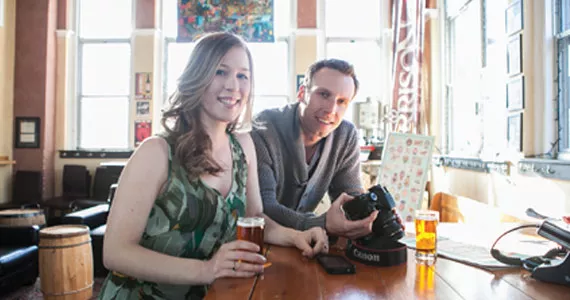 Scott Blackburn
Wesley and Moore in a rare indoor moment.
You're both really well-travelled. When did your focus shift to exploring locally?
Gillian Wesley: It's something that happened naturally. Drew has lived all around the province, Pictou County, Clare, East Hants and Halifax. For the past five years his work has taken him to almost every region and town in the province, and whenever possible I've gone with him. Without thinking about it much we just found ourselves really enjoying learning more about Nova Scotia, and falling more deeply in love with our province because of it.
What inspired you to start the blog?
Drew Moore: Both of us secretly harboured desires to be travel writers. We both have backgrounds in writing that we felt we weren't using. Finally in December 2010, we were out for supper at Stayner's Wharf with a new camera, thought it'd be fun to act like tourists and write about it and from that point on we were hooked. Plus, this is something we enjoy doing together. It makes every day feel like an adventure, and has become an integral part of our relationship.
What were the environmental reasons behind your commitment to local travel?
DM: Travel is one of the top environmental offenders and travelling closer to home can help cut down on your personal footprint. We try to be environmentally minded about everything we do. That's something that has definitely become more deeply ingrained in us since we've been doing the blog. The local and environmental movements are intrinsically linked, and we just feel it's important to consider our choices and their impacts, whether it is to the environment, the local economy or our own sense of well-being.
The blog lists eight rules for travelling like a local, regardless of the destination—why is this something that's important to you two?
GW: It really comes down to respect. Showing respect to the people whose homes and communities you're visiting by being genuinely interested in them. Respect for the past by endeavouring to learn how things and places came to be. Respect for the environment by making the right choices when they are available. Choosing active transportation is also something we really believe in. Exploring a place on foot or by bike allows you to better take in the community and meet those who live and work there.
If you can narrow it down, what are your top three spots to visit in Nova Scotia?
DM: This is a tough one. We get asked this question a lot, and each time it is different depending on where our most recent adventure took place but here are a few of our consistent top picks:
1. I really can't get enough of the Annapolis Valley. I love the sense that everyone there is doing or making something. There's a very entrepreneurial sense you get from going there that is very satisfying.
2. Guysborough is similar, but more concentrated. There's something really special happening there and you can feel it by how optimistic the people there are.
3. I think I have to go with the Cape Breton Highlands for this one. Great hiking, camping and natural sight-seeing. Plus, I finally saw a wild moose there.
Follow the pair's adventures at thelocaltravelerns.com and on Twitter @GillianWesleyNS and @DrewMooreNS.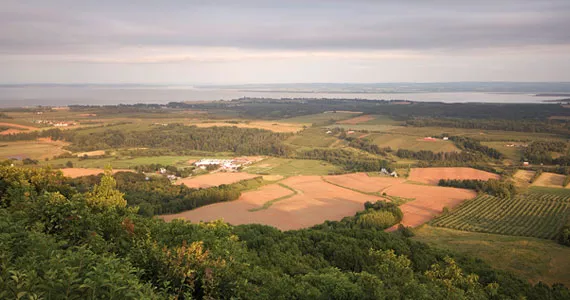 La Vida Local
The Local Traveler NS's eight simple rules for local adventures.
If you can drive, don't fly. If you can take the bus, don't drive. If you can cycle or walk, don't take the bus.
Stick to the back roads whenever possible.
If something isn't in your plan but it looks interesting, adapt your plan.
Ask lots of questions.
Support local vendors, restaurants and shops.
Leave things the way you found them.
Share your experience with others.
Have a lot of fun.