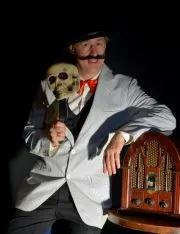 For the third year running, Taboo Theatre has brought an evening of Grand Guignol, a style of theatre that features graphic horror and "amoral" entertainment, to Halifax.
In the past, the company has produced works that had been written and staged over 100 years ago, but this year Halifax playwright Dan Bray was commissioned to create three plays in Grand Guignol style.
The first play Cradles and Graves centres on a war criminal who has been hunted down by two of his victims and is forced to confess his crimes under torture. The violence is restrained but effective, and the play was very suspenseful, at least until the very last line…a line that spelled out a twist that was already obvious.
The second play Criminal Négligée provides the comic portion of the evening and features some of its finest performances. This play delivered on the laughs, but ran overlong.
The final play was the goriest and most disturbing. In The Rights Bray has created a culture where suicide merits the mutilation of the body. Terrifying consequences ensue when the victim's would-be bride interferes with the gory rite. The ending is unexpected.
The shows are again woven together by The Manager's (played by Mike Chandler) delightfully atrocious word-play.
Grand Guignol is a style of theatre we get to see but once a year, and well worth checking out

For more information, check out Taboo Theatre's website: http://tabootheatre.wordpress.com/.

Where: Bus Stop Theatre, 2203 Gottingen St., Halifax, NS.
When: Nov. 7 — 11, 8 pm plus 2 pm matinee on Nov. 10.
Cost: $20, $15 for artists and students.