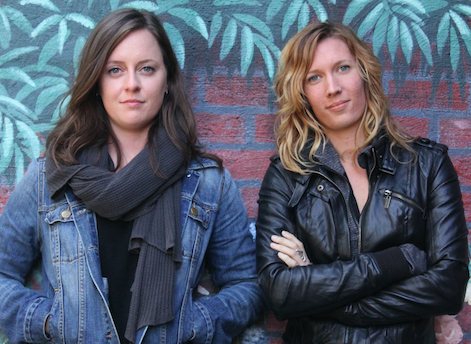 Kiki Wood and Katie Perfitt are part of the Canadian Youth Delegation to the UN Climate Conference in Paris, and local organizers of Climate Welcome which will consist of gentle acts of civil disobedience to hold the government to task on climate change starting November 5.
Dear Andy,
While the dust settles after the longest election in recent Canadian history, there's been a palpable collective sigh of relief. We've finally kicked Harper to the curb. Under Harper's "leadership," we had a government that thwarted climate action, science-based decision-making and reconciliation with the people who are indigenous to this land.
The Liberals won because Canadians want significant change and trust that you will make policy decisions based on science and fact, as opposed to ideology. Yet, the Liberal climate policy (or lack thereof) is missing prescribed scientific solutions.
It's great that Trudeau invited opposition leaders and premiers to attend the Paris climate talks this month as part of his posse, but let's not forget that these gestures were standard practice until Mr. Harper rolled in.
Here in Halifax, Andy, we prescribe to the "lead or follow" rule for politicians: be a leader, or follow your constituents when they take the lead for you. Your predecessors—Alexa and Megan—demonstrated leadership on important issues and we expect the same of you.
Consider this your chance to distinguish yourself as an MP who understands what climate change will mean for his own community, and who will champion policy change with the urgency the climate crisis necessitates.
As your new constituents, we find ourselves wondering how you will live up to the high expectations this community has. How will you represent us? Where will you stand when it comes to the most important questions of our generation. We've made a list of things that need to happen for this country to tackle the climate crisis. As a starting point, we expect you to champion the following changes in parliament:
i. Implementation of the UN Declaration on the Rights of Indigenous Peoples;
ii. A federal climate action plan that includes greenhouse gas emission reduction targets;
iii. A legally binding agreement in Paris in line with science that keeps us below two degrees of warming;
iv. An immediate end to fossil fuel subsidies;
v. A commitment to heavy investments in sustainable, long-term renewable energy solutions;
vi. A moratorium on all tar sands expansion;
vii. No new tar sands infrastructure
projects, including the Energy East pipeline; viii. A moratorium on offshore drilling in the Atlantic and the Gulf of Saint Lawrence;
ix. Revocation of the TPP and an to end back-door destructive free trade deals;
x. A decarbonized energy economy by 2050.
We are writing today to tell you that, as people from all parts of this country host a Climate Welcome in Ottawa to demand climate leadership from Justin Trudeau, here in Halifax we plan to do the same.
We are not interested in the symbolic gestures on climate change that your party has offered thus far. Andy, we will be taking you and your party to task on climate change. We'll accept nothing less than real climate action now and we will be here to respond.
With cautious optimism, Kiki Wood, national director of the Canadian Youth Climate Coalition and Katie Perfitt, member of the Canadian Youth Delegation to COP21 in Paris
——— 

Voice of the City is a platform for any and all Halifax individuals to share their diverse opinions and writings. The Coast does not guarantee the accuracy of, or endorse the views of those published. Our editors reserve the right to alter submissions for clarity, length and style. Want to appear in this section? Submissions can be sent to voice@thecoast.ca.